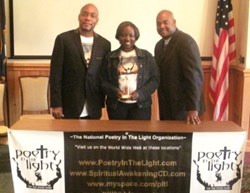 I was surprised and thrilled to be honored on Saturday.
Atlanta, GA (PRWEB) October 29, 2013
Author and motivational speaker Angela Ray received The Voice Award on Saturday, October 26, 2013 at the Island Vista Resort in Myrtle Beach. The award was presented by Poetry in the Light. Poetry in the Light, a national Christian worship arts organization celebrated ten years of ministry in Myrtle Beach South Carolina October 25th –October 27th.
The three day event kicked off on Friday evening with a reception and welcome. On Saturday the day began with a presentation of inspirational mime. Keynotes were presented by D. Garvin Byrd of Richmond, Virginia and Johnny Holloway of Durham, North Carolina. Ray presented a talk on "Growing a Business in Faith."
"I was surprised and thrilled to be honored on Saturday. I have been a part of Poetry in the Light since its inception, so it meant a lot to me to be recognized," Ray said. Other individuals receiving awards on Saturday included Jimmie Gyamerah of Richmond, Virginia, Purnell Morris of Wilmington, Delaware, Tonya Foster, of Richmond, Virginia.
Ray actually introduced the founders of Poetry in the Light to each other. Since that initial introduction, Troy Bunch and Duane Graham Foster have built an international organization. The group is currently fundraising to make a second trip to Ghana, West Africa. Although Ray has served in a number of roles in the group's programs, this was the first time she served as a speaker.
About Angela Ray International
Angela Ray is an award winning speaker and author who has spoken to thousands of audiences around the country. In addition to speaking, she helps small business owners develop their voices as speakers both on stage and the page so that they can increase their income, impact, and influence. A recognized authority on communication and leadership, Ray is committed to transforming lives and developing megastar leaders.
About Poetry in the Light
Poetry in the Light is a National Christian Organization, which consists of unique individuals with a mission to minister beyond the walls of the church. The organization is committed providing outreach throughout the world by using various art forms to speak restoration, deliverance, and salvation, while continuing to exemplify a reflection of light through the teachings of Jesus Christ. The group has shared its message of faith internationally with engagements in Ghana West Africa and Mexico as well as locations around the United States.