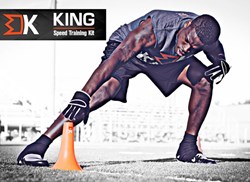 I used to coach the US Skeleton team, so I might be a skeleton (for Halloween).
Dallas, TX (PRWEB) October 29, 2013
The Speed and agility equipment brand, King Sports, is offering a special 20% off discount for this week only. This comes at a special time of year with not only the holidays, but the tail end of fall sports.
The King Sports Training kit was packaged around the same program that former Dallas Mavericks and US Skeleton strength and conditioning coach, Bob King, used to train athletes of all levels throughout his career.
Many coaches deal with a little time, space constraints and a lack of general resources. This training kit was packed with enough equipment to train an entire team in a short amount of time.
"This time of year you have a lot high school football teams thinking about their off season training program, and the winter girls and boys sports looking to in season training," said Bob King, "We really want to give a boost to the coach's programs and budgets going into the winter."
The King Sports training kit includes a 20 foot agility ladder, 10 mini hurdles, 8 cones and the King OverSpeed 360 Bungee with drill videos on their website.
Coach King has had a great deal of success in virtually every sport, both men's and women's, and continues to train athletes with his own equipment line to this day.
When asked what Coach King would be for Halloween he said, "I used to coach the US Skeleton team, so I might be a Skeleton, but we'll see."
For more information on this equipment, visit the King Sports Training website.