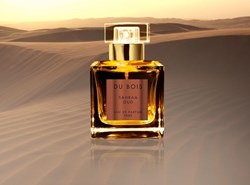 We are pleased to collaborate with the Amber Lounge again and it is a privilege to unveil our new commemorative fragrance at this exclusive party. -- Nicola Parker
abu dhabi, UAE (PRWEB) October 30, 2013
Once again in partnership with the iconic Amber Lounge, Fragrance Du Bois as official perfume, will spice up the atmosphere with the release of a specially crafted exclusive, luxury scent to celebrate the intense heat of the night race in the exciting metropolitan city of Abu Dhabi.
"We are pleased to collaborate with the Amber Lounge again and it is a privilege to unveil our new commemorative fragrance at this exclusive party. Oud Noir Intense turned out to be quite a hit and we hope our new premium fragrance will captivate even more noses," says Fragrance Du Bois Brand Director Nicola Parker.
The first in the premium Privé collection, Sahraa Oud captures the untamed wildness and vast windswept sand dunes of the Arabian desert and intense suspense of Formula One racing in an exquisite, elegantly cut crystal bottle.
Sahraa Oud contains high value ingredients like Rose Absolute, a coveted ingredient that is frequently used in aromatherapy for its sweet, sensuous, stimulating nature. The base of the fragrance is layered with Fragrance Du Bois' signature oud oil, Sahraa Oud produces a unique, intoxicating scent that reveals the luxurious, sweet, romantic heart of rose and finishes with the strong, woody, musky notes of oud.
Also unveiled at the Amber Lounge will be the brand's new signature range of Serum pens, an alcohol-free version of all the fragrances from the Shades Du Bois Range. The serum pens are an elegant option for travel fragrance, perfectly sized for the smallest of clutch bags and guaranteed to have your pulse points sizzling. Serum pens feature a very high concentration of parfum and oud in the blend.
Oud, known as liquid gold in the Middle East enjoys a rich history in Arab culture for its use in religion as incense, in medicine and is also the ultimate gift for esteemed guests. Fragrance Du Bois, with its excellent connections with sustainable plantations, is the only fragrance brand that can guarantee the source of their oud oil is from sustainable, legal sources.