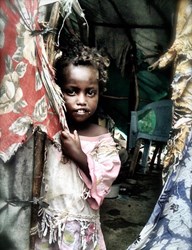 All we want to do is help those who can't help themselves.
Austin, TX (PRWEB) October 29, 2013
US-based website design and development firm digITech Web Design has joined hands with a Somalia NGO, Happy Hearts, to help provide food to the hungry in the nation's war-torn capital of Mogadishu. Happy Hearts is a non-governmental organization that specializes in bringing food, medicine and trauma counseling into the nation of Somalia. The Happy Hearts website states, "Our dream is to see children and adults affected by conflict, famine and tragedy transition from mere survival to thriving and enjoying life!" digITech Web Design is an Austin, TX Web Design firm that specializes in website design and search engine optimization.
Through an innovative plan which includes financial assistance, website design, and internet marketing, the company says that they hope to raise awareness of the great need of the Somalia people for basic necessities such as food, clothing and medicine. The war has had a devastating effect on the nation of Somalia and bringing food and medicine into the country has proven difficult with the level of theft and piracy at the local ports. digITech has pledged to allocate a team of its Austin Website Designers and internet marketers to focus solely on Happy Hearts to see their mission accomplished.
Founder of digITech Web Design, Darryl Stevens, said this in a telephone interview, "My goal is to allocate the resources necessary to see every child go to sleep at night with a full stomach. All we want to do is help those who cannot help themselves; after all some of these children have been through it is the least we can do." Both organizations have stated that they would love to see every child in the entire nation get 3 square meals per day by 2020 which they believe is a goal that is easily within reach, provided they gain the proper attention and support that the issue deserves. Find out how you can help by visiting Happy Hearts website today!
Company: DigITech Web Design
Address: 7703 N. Lamar Blvd. Suite 510
City: Austin
State: TX
Zip code: 78752
Telephone number: (512) 653-3003