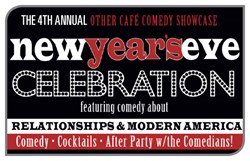 Laughter is good medicine.
San Rafael, CA (PRWEB) November 05, 2013
New Year's Eve made easy and very funny. The Other Cafe Comedy Showcase's 4th Annual Stand-Up comedy Celebration is a perfect show for New Year's Eve in Marin. Bring your party to our comedy show then enjoy an after-party with the comics for the countdown & bubbly. The Osher Marin JCC offers a beautiful setting and plenty of hassle-free parking.
This New Year's Eve comedy show features two national headliners: The Spouse Whisperer: Mark Cordes and Cathy Ladman, star of her own HBO Special and named Best Female Stand-Up Comic. Mark returns with additional new hilarious insights on Relationships. Cathy's humor is a self-probing, anxiety-venting vehicle that focuses on family, growing up, relationships and real life from a very personal perspective. Bob Alper's twenty-five year comedy career sets him up as the perfect host for this very special evening.
Mark Cordes Video
Cathy Ladman Video
What: New Years Eve Stand Up Comedy Celebration on Modern Relationships with The Spouse Whisperer: Mark Cordes and Cathy Ladman, star of her own HBO Special and named as Best Female Stand–Up Comedian, featured on MadMen
When: Tuesday, December 31
8pm Pre-event No-Host Cocktails:
9:00 - 11:15 Comedy Showcase
11:15 - 12:30am. After Party/Countdown with the Comics
Where: Kanbar Center for the Performing Arts
at The Osher Marin JCC
200 North San Pedro Road, San Rafael
Tickets: $35 - $65 | Theothercafe.com | marinjcc.org/nye
Seating: Gen. Adm. | Reserved Table | Group Table Available
Add special warmth to the evening
Attendees are encouraged to bring canned foods, toiletry items, and warm lightly used or new coats, blankets and sleeping bags to benefit the Ritter Center.
More:
An evening of hilarious insights and advice on the differences between the sexes, relationships of all kinds, marriage, kids and modern life in America. What better way to send off the old year and usher in the new than with comedy, friends, fun and laughs. The showcase begins late enough for creative dinner plans and ends in time to either make a special rendezvous by midnight, or stay and party with the comics into the New Year. Cocktails, sweets and savories will be available for purchase and add to the festivities. The stress-free, fun, and fabulous way to ring in 2014, ample free parking on site and street, no two drink minimum, no bridge toll and an opportunity to party with friends and national talent right here in Marin.
Mark Cordes ('AKA The Spouse Whisperer') Back by popular demand, Mark is a hilarious comedian and humorist who has been hailed by critics as a "One Man Laugh Factory". Mark lampoons the ups and downs of dating, relationships, marriage, and divorce and educates the crowd on the do's and don'ts.
Cathy Ladman
The best way to get inside Cathy Ladman's head is to see her live. As one of the country's top comedians, Ladman's show is a self-probing, anxiety-venting vehicle, which draws laughter from exposing personal neurosis. She has not only appeared on "The Tonight Show" nine times, but was also the only female comic to appear on the last two Johnny Carson "Tonight Show She appeared regularly on ABC's "Politically Incorrect" The Los Angeles Times put it best: "Ladman has such clever, well-written material and such a breezy, unassuming delivery that it would be easy to overlook just how good she is: Her act seems effortless."
About the Kanbar Center at the Osher Marin JCC
Epitomizing the essence of Marin, with a range of authentic cultural experiences enjoyed by many generations, the Osher Marin JCC offers award-winning facilities, including The Kanbar Center for the Performing Arts, which has established a strong and well-respected reputation within the community as a Center for the Performing Arts in Marin County. Originally known as CenterStage, this department within the Osher Marin JCC has been presenting a stunning lineup of world-class performances from emerging and established performers annually since 1990. Venues include the grand Hoytt Theater, the intimate Kurland Lounge and outdoor venue, Swig Field. Performances offer concessions including cocktails for those 21+ and opportunities to meet and greet artists. The Kanbar Center is also proud to offer our facilities as the perfect place to host community fundraisers and events for non-profits as well as family celebrations.