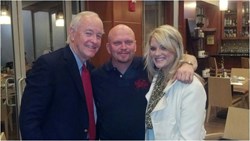 Long Island, NY (PRWEB) October 29, 2013
The 2014 Super Bowl Symposium sleep apnea screenings will be lead by David Gergen, Executive Sleep Director of the Living Heart Foundation's NFL HOPE program. With the HOPE Program's founder Dr. Archie Roberts, they will be working with Mayo Clinic Scottsdale, University of Minnesota, University of Texas (Houston) and George Washington University to run the NFL HOPE study and screen players; four of six facilities that are expected to take part in the screenings and the HOPE study.
The screenings at the symposium are intended to ultimately offer treatment options throughout the playoffs at Malo Clinic in New Jersey, however, and this year will also feature the first dentists to speak at the Super Bowl Symposium; Dr. Bradley Eli, Dr. Neal Seltzer and Dr. Jeffrey Rein. With Pro Player Health Alliance and the HOPE Program working together, over 160 former professional athletes have been treated for sleep apnea and hundreds more from the general public have been referred to doctors across the country. The HOPE program, which stands for Heart Obesity Prevention Education, has been endorsed and sponsored by the NFLPA and Covidien.
The PPHA is continuing their stride through the nation on their national "Tackle Sleep Apnea" campaign. The Phoenix-based company has made their way to several cities and held multiple events in some states hosting free public events.The PPHA events are perfect for individuals who want to learn more about sleep apnea, alternative treatment options to CPAP such as the oral appliance known as the Sleep Herbst and to hear genuine stories from American heroes who have experienced the same complications. The next event will be held in New York with Long Island Dental Sleep Medicine December 5, 2013.
Event Details
Time: 7:00-8:00 p.m.
Date: December 5, 2013
Location: Long Island Mariott
101 James Doolittle Blvd.,
Uniondale, NY 11553
About David Gergen
David Gergen, CDT and President of Pro Player Health Alliance, has been a nationally respected dental lab technician for over 25 years. He received the award for "The Finest Orthodontic Technician in the Country" given by Columbus Dental in 1986. He also has been appointed chair of the dental wing of the American Sleep and Breathing Academy a national interdisciplinary academy dedicated to sleep training and education with over 60,000 members. He has worked for some of the pioneers in the orthodontic and sleep dentistry fields. One of his proudest achievements is receiving The National Leadership award for Arizona Small Businessman of the Year in 2004.
About Pro Player Health Alliance
The Pro Players Health Alliance (PPHA) is an organization dedicated to helping former NFL players, through providing testing and treatment options for those who suffer from sleep apnea. In addition, the PPHA is dedicated to integrating education and raising sleep apnea awareness, in a fun and memorable way. In addition to the campaign, the PPHA is dedicated to testing and getting people treated who suffer from sleep apnea. The PPHA was created by David Gergen and Former NFL legends.