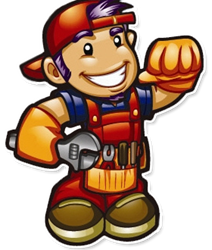 Our drain cleaning and free video inspection can help to identify and eliminate developing clogs before they have a chance to cause inconvenient and costly sewer & septic problems.
Los Angeles, CA (PRWEB) October 29, 2013
Wastewater authorities around the world have reported costly sewer blockages caused by consumers flushing bathroom wipes down their toilets. While the manufacturers of these wipes claim their products are flushable, the owner of The Drain Dudes® urges the public to remember that just because something disappears down the toilet doesn't mean it is really safe to flush.
As a company that specializes in drain cleaning, The Drain Dudes® often receives calls from clients with clogged toilets. According to the company's owner, many of these clogs are caused by flushing inappropriate items.
In response to this ongoing problem, The Drain Dudes® has compiled a tip sheet on what not to flush:
Bathroom wipes & baby wipes: So-called "flushable" wipes aren't really safe to flush because they are not biodegradable. Tests have shown that these wipes can travel for miles without breaking down.
Diapers: Even newborn diapers are too bulky to flush. They belong in the trash!
Feminine hygiene products: Many feminine hygiene products contain non-biodegradable materials. Even natural cotton tampons are a problem because the string can catch on obstructions within pipes.
Paper towels: Paper towels are much more durable than toilet paper and often contribute to clogs. Heavy-duty or cloth-like paper towels should never be flushed.
Cotton balls & swabs: Though these items are small, they can easily become ensnared in hair or stuck to greasy buildup already in the sewer pipes, resulting in the rapid development of clogs.
Cat litter: Most types of cat litter contain clay particles that will absorb water and clog up your pipes if flushed.
In short, anything other than waste or toilet paper should not be flushed.
According to the owner of The Drain Dudes®, clients with septic tanks need to be especially careful about keeping foreign objects out of their plumbing. Items like bathroom wipes and feminine hygiene products will not break down naturally inside the septic tank like toilet paper does, resulting in the risk of a messy septic tank backup and the need for more frequent tank pump-outs.
Clients attached to municipal sewer systems need to watch what they flush as well. Not all flushed items will make it out into the sewer system where they become someone else's problem. The owner of the Drain Dudes® reports that his professional drain cleaning crew often finds blockages deep within buildings' drain systems. These types of blockages will result in the failure of drains and fixtures throughout the property.
Homeowners who have been flushing items they shouldn't are encouraged to call The Drain Dudes® for drain cleaning and free video inspection to identify and eliminate developing clogs before they have a chance to cause inconvenient and costly sewer & septic problems.
About The Drain Dudes®
The Drain Dudes® is a full service plumbing company committed to providing customers with the best, the fastest, and the cheapest plumbing services in Southern California. With an extensive mobile fleet of professional plumbers available to serve customers 24/7, The Drain Dudes® can provide drain cleaning, leak detection, septic tank service, trenchless sewer repair, and other plumbing services right when customers need them.
Contact Information:
Call The Drain Dudes® toll free at 877-700-0160 or visit http://www.draindudes.com.