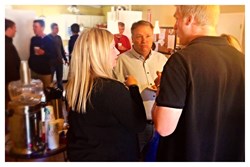 It is awesome to see the whole family recover.
Flagstaff, Arizona (PRWEB) October 31, 2013
This past weekend, Back2Basics long-term rehabilitation center hosted parents and family members from as far as Virginia, Nebraska and California. Most of the visitors were seeing their loved ones for the first time since they entered the program months before.
"I almost didn't recognize him," Mary Ellen said, a mother of current Back2Basics recovering addict. "For the first time in a long time I see him. I see my son."
Roy DuPrez, CEO and founder believes Family Weekend is a significant part of the Back2Basics program. "We are trying to reconnect and bridge families but it takes time to repair and heal. This is just one step in that recovery process," he said.
Residents welcomed family and friends by baking and preparing a meal of fresh squeezed orange juice, yogurt, torts and croissants. Over the course of the weekend families were introduced to day-to-day life at Back2Basics, which included outdoor adventure, therapy, and educational classes.
Family Weekend is put on twice a month, so loved ones have the opportunity to be a part of their son's recovery. "I really like working with the entire family system, it is awesome to see the whole family recover," said DuPrez.
Mary Ellen finished the weekend with tears in her eyes. "I feel like angels brought us here. Back2Basics has been a miracle."
The next family workshop is scheduled to take place November 8-10.