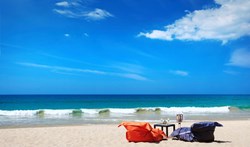 Phuket, Thailand (PRWEB UK) 30 October 2013
Multiple award-winning Aleenta Phuket-Phang Nga Resort and Spa is celebrating seven years as one of Thailand's best-loved boutique hideaways with a family-friendly makeover that sees the resort 'growing up' along with its owner and loyal, long-time fans.
Aleenta Phuket, part of the AHMS Collection of luxury boutique resorts along the roads less travelled, has seen upward of USD2 million lavished on renovations and innovations including the last word on guilt-free, thoughtful child care in the shape of 'The Turtle Club'.
Other big changes include a completely revamped and expanded spa concept that swaps rose petals in the bathtub for a more medical and results-oriented approach to wellness, a stunning 20m x 9m absolute beachfront infinity pool as focal point and centrepiece of the new-look resort, and a spectacular new waterfront signature restaurant.
The resort is owned and operated by Akaryn Hospitality Management Services (AHMS), whose Managing Director and Founder, Anchalika Kijkanakorn, said she was delighted with the enhanced and expanded resort.
"I created Aleenta when I was younger, carefree and with no kids," Ms Kijkanakorn said. "Now, I'm a mother of two and I know what I need when I'm on holidays with my boys. It didn't exist so I decided to create it."
The Turtle Club is the ultimate guilt-free place to park the kids while mum and dad go in search of grown up fun. "There won't be a single electronic gaming console in there. What you'll find instead is a state-of-the-art kids club with its own pool and play area, watched over by fully-qualified and certified care providers who will engage children ages 12 and below with fun classes and with an emphasis on learning and development."
Aleenta had been 'a lifelong journey', Ms Kijkanakorn said. Just as people reinvented themselves, so the resort needed to change with the times and adapt to the lives and desires of its guests as they grew up.
"The new look Aleenta Phuket more than ever is going to be about the attention to detail, the unexpected touches and magical experiences we all thirst for. We all grow up, but we don't have to grow boring or forget how to have fun."
Set to be unveiled on November 16, Aleenta Phuket is welcoming back some of its guests who first visited as romancing couples, and meeting the demand of travellers for sophisticated breaks that offer engaging experiences for children.
With the children entertained, parents have the opportunity to revel in the sophistication of Aleenta Phuket's dining experiences at its signature beachfront restaurant The Edge or the Chef's Table on the rooftop terrace for private dining of up to 12 persons.
The resort's 20m x 9m beachfront infinity pool affords stunning and uninterrupted Andaman sea views and serene sunsets. "It has a submerged swim-up bar and outsized daybeds, private salas over the water, and a 'quiet cove'.
An interactive cooking counter and show kitchen, a new beach bar with DJ station, and a promise that the pool won't close 'until the last guest leaves', gears up guests for long cool evenings of laid-back poolside reclining, wining and dining.
The spa is also being re-launched as Ayurah Spa, with two additional treatment rooms, a post-treatment relaxation chamber, a chromo-therapy room and a state-of-the-art Vichy shower room, which allows guests to receive a horizontal water massage.
"Ayurah in Sanskrit means longevity and healthy life," Ms Kijkanakorn said. "As we get older, taking care of our health becomes more important, and looking good while doing so is equally important.
"The new spa will be focusing on anti-aging therapies, age defying treatments, plus a few other advanced techniques including oxygen therapy which not only cure your jetlag, but also refresh your entire body. The relaxation room includes the latest light therapy technology."
A total of three million international visitors are expected to visit Phuket in 2013, according to the Tourism Authority of Thailand, with numbers expected to grow with the expansion of the airport, scheduled for completion in 2015.
"With more arrivals to Phuket than ever before, we want to give guests even more reason to turn left out of the airport towards Phang Nga and escape the hordes on Phuket and enjoy our long, pristine and peaceful beaches 20-minutes north of the airport," said Ms Kijkanakorn.
"Perhaps guests would like to experience our turtle conservation work also through our Pure Blue Foundation and assist with our turtle nurturing programme. This is a great family experience and provides memories for them all to treasure."
Additional renovation work at Aleenta will include new decking throughout as well as a new and expanded Galleria Aleenta, a yoga studio and gym, with cross training equipment.
The resort will not be resting on its laurels, and plans to double its inventory of pool suites and villas from 44 to 88, to be ready a year from now.
Aleenta has been recognised as Asia Pacific's Best Sustainable Hotel for the last two years at the International Hotel Awards.