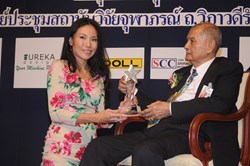 Bangkok, Thailand (PRWEB UK) 30 October 2013
The founder, visionary and Managing Director of Akaryn Hospitality Management Services (AHMS), Anchalika Kijkanakorn, has been voted Thailand's Quality Person of the Year 2013, adding the prestigious recognition to a list of accolades.
The Quality Person of the Year award is organised by the Foundation of Science and Technology Council of Thailand (FSTT) to recognise individuals who succeed personally and professionally whilst dedicating themselves to the benefit of Thai society and the country in various fields.
Ms Kijkanakorn said she was honoured to be awarded the recognition. "Although AHMS has a strong focus on international visitors, we have always been fully committed to the sustained growth of both the global reputation of Thailand as a haven for tourism and the careers and welfare of local Thai communities. It is with a sense of great personal and national pride therefore, that I accept this award," said Ms Kijkanakorn.
AHMS currently employs almost 600 Thai staff, providing training and career progression programmes that allow the company to source talent from local areas. At present, 62 percent of managerial and supervisor positions at Aleenta Resorts are occupied by staff who have grown in-house at the resort, with similar figures to be replicated across all new AHMS resorts due to open over the next 2 years.
Ms Kijkanakorn, who owns and operates AHMS Hotels, is also the first Asian-based Chairman of SLH, which comprises an unrivalled selection of some of the world's finest independent hotels. SLH is a globally recognised institution with more than 520 hotels in 70 countries, each united by strict adherence to luxury standards but offering exceptional diversity in style and experiences.
AHMS has received a number of awards, including AKARYN Samui Resort and Spa, the group's current flagship boutique resort on a private beach at Koh Samui's Hanuman Bay picking up Best New Luxury Hotel at the 2012 World Luxury Hotel Awards, as well as making it onto DestinAsian magazine's coveted Luxe List less than a year after welcoming its first guests.
Aleenta Resort and Spa Phuket-Phang Nga, meanwhile, was named the world's Best Small Hotel at the International Hotel Awards in London, described as 'small but perfectly formed' boutique hotel by judges at the glittering presentation dinner at the London Marriott Hotel in Grosvenor Square on November 4, 2012.
The third and founding five star property in the Akaryn Hospitality Management Services (AHMS) collection, Aleenta Resort and Spa Hua Hin-Pranburi, has also been named Best Luxury Coastal Resort at the 2012 World Luxury Hotel Awards.
Ms Kijkanakorn has also found time to launch the Pure Blue Foundation - a charity close to her heart - dedicated to marine conservation including regeneration of damaged coral reefs and work with endangered sea turtles, as well as educating communities on how to protect their natural resources.
AHMS Hotels may be known for their warm, intuitive approach but Ms Kijkanakorn knows what it takes to run a business: she holds a BA in Marketing from University of Texas and an MBA in International Business from the University of South Carolina. She has held various leadership roles specialising in audit, consulting, mergers and acquisitions, and financial control, managing teams across Asia, Europe and the United States, during eight years with global financial giants GE Capital, and later Honeywell.