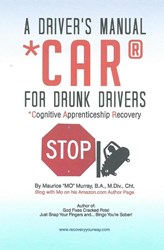 "am I still just a moderate drinker or am I really now a problem drinker or have I actually become an alcoholic?"
Charleston, SC (PRWEB) October 30, 2013
In his new book, A Driver's Manual for Drunk Drivers, Maurice Murray provides profoundly original coping skills for all those living a heartfelt struggle with alcohol. The book deals specifically with the nagging question: "am I still just a moderate drinker or am I really now a problem drinker or have I actually become an alcoholic?"
The first two chapters are tough minded.
Chapter 1 The people of the lie! bluntly declares that we are not dealing with "Denial" but with "A Lie." It also deals with the eternal debate between moderate drinking and total abstinence. The tragic story of Audrey Kishline, founder in 1993 of "Moderation Management" is relived; in which, seven years later (March 25,2000) while driving drunk and going the wrong way on an Interstate hit and killed a father and daughter.
Chapter 2 Tender loving greed! forcefully blasts present day Substance Abuse Treatment and its "arrogance of ignorance" in refusing to accept responsibility for treatment failure and anxious only to collect grant money from a lax government bureaucracy.
The next four chapters break new treatment ground.
Starting with Chapter 4 Recovery your way! Murray boldly declares "You are in recovery now even if you are still drinking. Recovery is already at work within you." Using his unique Cognitive Apprenticeship Recovery "CAR" Methodology [Watch It Do It Know It] he draws from a lifetime of experience to help healing. Murray is in recovery. These chapters are peppered with spiritual and philosophical anecdotes intended to provide positive reinforcement.
Chapter 7 Now I lay me down to marinate! Self hypnosis is encouraged as a strong recovery tool and a "bedtime" induction procedure is given.
Chapter 8 A funny thing happened on my way to recovery! Is a compilation of eleven pages of recovery humor. Murray states "recovery starts with a revival of your sense of humor."
A Drivers Manual for Drunk Drivers is highly recommended for those who want to take a serious look at alcohol and how to deal with any problems it may be causing in their lives.
For reference, book ISBN 9781491808382 (paperback)