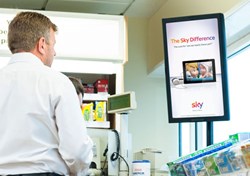 The real time digital media network will deliver engaging and dynamic content to a weekly audience of over 5 million Tesco shoppers.
(PRWEB UK) 29 October 2013
Amscreen, Europe's largest digital media network owner, has today announced a partnership with Tesco and dunnhumby which will provide customer messaging and advertising opportunities across all 450 petrol stations in the UK. The real time digital media network will deliver engaging and dynamic content to a weekly audience of over 5 million adults.
The Tesco network also represents the first to market national roll-out of Amscreen's audience measurement technology, OptimEyes; a system which is able to determine basic demographics such as gender, age, date, time and volume, all of which can help to deliver more measurable campaigns for advertisers, as well as more relevant on screen content for the Tesco customer. dunnhumby will further enhance the opportunity with market leading customer insight, to help build right time, right place, and right message customer engagement.
Content on the network will be sold by Amscreen's media sales team and is expected to appeal to a broad range of advertisers.
Amscreen CEO Simon Sugar said, "We're extremely excited to call Tesco a screen network partner. We believe it's our flexibility, reliability and measurability that has helped us secure this partnership. For potential advertisers, this means we can now offer various digital advertising solutions to reach the sought after Tesco shopper."
Peter Cattell, Category Director for Tesco petrol stations commented, "We're always looking to work with partners who provide innovative ways to enhance the customer shopping experience. This new dynamic screen product from Amscreen provides the perfect means for us to do this. The ability to tailor content based on time and location means it can be extremely useful and timely for our customers."
About Amscreen:
Amscreen is a worldwide digital outdoor advertising and screen solutions network reaching 60 million adults each week via 6000+ screens - it's also the UK's largest single portfolio of digital screen media. Amscreen focuses on reaching audiences in high dwell, close proximity environments helping to deliver millions of viewers every day across the UK, Europe and beyond. The partners and estates helping to deliver this audience include Tesco, Halifax, BP, Aral, Londis and WHSmith amongst others. The core estates Amscreen work within include Convenience, Forecourts, Travel Hubs as well as GP Surgeries throughout the UK. Measurability and flexibility are at the heart of the Amscreen business helping to deliver an ad solution that now more closely reflects a convergence of Outdoor with online. This array of audience measurements and insights are obtained from EPOS, location and demographic insights as well as our revolutionary new OptimEyes face detection technology. For a more detailed overview of this please goto: http://www.amscreen.eu/optimeyes-real-time-insight-for-digital-media-advertising These insights are then leveraged to deliver an array of creative solutions through Amscreen's unique content delivery systems allowing day-part targeting, site specific (GEO), audience specific, live feeds, reactive advertising as well as automated localised content and much more. Amscreen's has seen recent rapid growth in both its advertising division and solutions division. Advertising networks are now present across 3 continents including countries such as Germany, Poland, Luxembourg, Switzerland, Austria UAE, Australia and Kenya amongst others. The Solutions division provides both back of house and front of house messaging which is helping businesses to more effectively engage both staff and consumers in store helping to drive point-of-sale purchases.
For more information on Amscreen, visit http://www.amscreen.eu