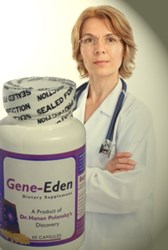 We recommend the use of Gene-Eden-VIR, which helps the immune system target latent viruses. The main benefit of using Gene-Eden-VIR is its proven effectiveness against a broad range of latent viruses. – Mike Evans, polyDNA
Rochester, NY (PRWEB) October 30, 2013
Doctors have suspected for a long time that certain viruses can cause Type 1 diabetes. Now, progress has been made in identifying those viruses. According to two new studies, published in the leading scientific journal, Diabetes, they belong to the enterovirus family of viruses (1).
"These viruses are common in children, and more than 100 different enterovirus types have been identified in man. A subset of these enteroviruses can cause serious illnesses such as; myocarditis, meningitis, the hand-food-and-mouth disease as well as paralytic disease such as polio. Although the association between type 1 diabetes and enteroviruses has been observed in various studies, until now it was not known which enterovirus types are most responsible for this effect (1)."
One new study showed for the first time that members of the enterovirus, sub-group B coxsackieviruses, are associated with Type 1 Diabetes. Other enterovirus sub-types are not. Study authors wrote that "These findings are in line with other recent reports suggesting that group B coxsackieviruses can spread to the pancreas and damage the insulin-producing cells (1)."
Some researchers believe that this discovery "opens up novel possibilities for future research aimed at developing vaccines against these viruses to prevent type 1 diabetes. Since the group B coxsackieviruses includes only six enterovirus types it may be possible to include all of them in the same vaccine. Effective vaccines have been available for a long time against another enterovirus group, called polioviruses, which includes three enterovirus types (1)."
"We recommend the use of Gene-Eden-VIR, which helps the immune system target latent viruses. The main benefit of using Gene-Eden-VIR is its proven effectiveness against a broad range of latent viruses." – Mike Evans, polyDNA
A study published on August 12, 2013 in the peer reviewed, medical journal Pharmacology & Pharmacy, in a special edition on Advances in Antiviral Drugs, showed that Gene-Eden-VIR reduced HPV symptoms. Study authors wrote that, "Individuals infected with the HPV…reported a safe decrease in their symptoms following treatment with Gene-Eden-VIR (2)." The study authors also wrote that, "We observed a statistically significant decrease in the severity, duration, and frequency of symptoms (2)."
To learn more about Gene-Eden-VIR, visit http://www.gene-eden-kill-virus.com. All orders of Gene-Eden-VIR are completely confidential, and no information is shared or sold to any third party. Privacy is assured.
###
References:
(1) http://www.sciencedaily.com/releases/2013/10/131022091721.htm
(2) http://www.scirp.org/journal/PaperInformation.aspx?PaperID=36101
polyDNA is a biotechnology company that develops dietary supplements using the unique scientific method developed by Dr. Hanan Polansky, which is based on Computer Intuition.
In addition to his unique scientific method, Dr. Polansky published the highly acclaimed scientific discovery, called Microcompetition with Foreign DNA. The discovery explains how foreign DNA fragments, and specifically, DNA of latent viruses, cause most major diseases.
polyDNA developed Gene-Eden-VIR, an antiviral natural remedy that helps the immune system kill latent viruses.