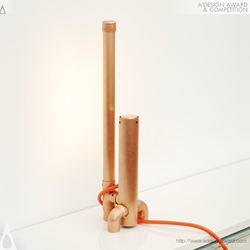 Como, Italy (PRWEB) October 31, 2013
A' Design Award and Competitions are proud to tell that the design Beacon by Bogdan Moga became winner of the famous Silver A' Design Award at Lighting Products and Lighting Projects Design Competition.
About Beacon
An unexpected mix of materials and shapes, the Beacon is a minimalistic, economical lamp that uses available surfaces to reflect and diffuse light. It is constructed using copper tube, and integrates the switch organically, plus all elements of an LED driven system into a compact yet powerful kit for casual reading. The light of lamp is warm and soft, creating a sunny Sunday afternoon experience for every reader. If unpainted, it facilitates the building of a personal relationship, as the surface oxidizes in time, it darkens in color and gains texture detail and personality with each print or scratch.
To learn more, please follow: http://www.adesignaward.com/design.php?ID=28128
The Silver A' Design Award
The Silver A' Design Award is a prestigious award given to top 5% percentile designs that has carried out an exemplary level of greatness in design. The designs are judged by a panel of three different jury which is composed of Academic, Professional and Focus Group Members. The designs are evaluated with score normalization to remove any biases and are voted on aspects such as functionality, ergonomics, engineering, presentation, innovation, usability, fun details, technology, and any other specific points that could be considered, each of these points are further weighted for different jury groups.
About A' Design Award and Competitions
A' Design Award and Competitions, aims to highlight the excellent qualifications of best designs, design concepts and design oriented products. A' Design Award and Competitions are organized and awarded annually and internationally in multiple categories to reach a wide, design-oriented audience. To learn more visit: http://www.whatisadesignaward.com