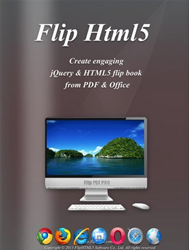 (PRWEB) October 29, 2013
Fliphtml5.com is a famous online company that offers advanced flipbook creator tools for customers worldwide. Recently, the company has updated its website to release a new Flip HTML5 product, jQuery Flipbook Maker.
According to Joe, a designer from the company, the software of jQuery Flipbook Maker is one of the best programs in the market for converting various files to flip books. It is easy to use. People can create animated HTML5 Page Flip Flipbook with it.
"We are happy to announce the JQuery Flipbook Maker. Welcome to visit our website to find more details about the product. We offer downloading at no cost on the Internet. In my opinion, there are 5 reasons to convert pdf to flipbook. The most important one is that it can create a real page turning effect with mouse scrolling. Personally, I like it very much," he says.
Fliphtml5.com has provided a lot of high-tech products to people from around the world. Most of them are very popular among young people. The company has won a good reputation and plenty of positive reviews online.
Amy, a girl from San Francisco, reviews, "I like your products very much. Thank you so much. I have downloaded several tools from your website, and all of them are convenient to use. Now I can create my Flip HTML5 home."
About Fliphtml5.com
Fliphtml5.com is a reliable online company offering HTML 5 based flip book maker. It provides impressive software at no cost for customers from all over the world. The purpose of this company is to help people gain a wonderful online reading experience. More detailed information about the company and its advanced products can be found at its website.