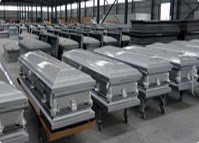 (PRWEB) October 29, 2013
Recently, MillionaireCasket.com, a reliable online company that provides excellent caskets, has updated its website to offer a new collection of solid poplar wood caskets. Additionally, the company provides special offers on these new solid poplar wood caskets, up to 35% off.
According to Kevin, development manager for MillionaireCasket.com, the company launches the promotion to show its appreciation to all clients from around the world. Any order can get a discount and the special offer will come to an end on November 29, 2013.
Kevin says, "We are very proud to release these new solid poplar wood caskets to our old and new customers. As one of the leaders in the industry, we are now representing over 50 designs for clients throughout the world. All our products are available at low prices. Also, we employ professional workers to analyze every product to ensure exquisite quality; we have strict quality control systems. You don't have to worry about the quality and comfort."
MillionaireCasket.com has extensive experience in making various kinds of caskets. Its products include solid poplar wood caskets, solid fir wood caskets, sapphire gold metal caskets, heaven pink metal caskets, casket lowering devices, embalming tables and more.
About MillionaireCasket.com
Millionaire Casket is a leading China casket manufacturer, and focuses on the business of casket wholesale. This company offers an exquisitely crafted line of all kinds of metal caskets, solid wood caskets, veneer caskets, cremation caskets, and more. The standard quality control policy is strictly applied here, and a third party quality assurance is also available. Visit http://www.millionairecasket.com/ for more details.