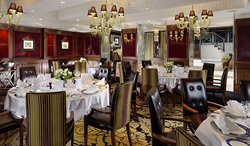 London, UK (PRWEB UK) 31 October 2013
On 8 October 2013, Wendy Marston Events assisted in the organisation of a successful dinner for senior executives of leading private client wealth management firms, on behalf of PAM Insight.
The purpose of the dinner is to bring together senior wealth management executives to discuss the items at the top of their agendas looking ahead to 2014. Attendance included COOs and Head of Operations from leading private wealth managers, including JPMorgan, Investec Wealth & Investment and Jupiter Asset Management. PAM Insight consulted with a number of COOs to identify the key issues and put together 4 speakers to give their thoughts on tackling the key points. The Goring, London, provided a reception and light dinner (4 small courses) in their Archive Room.
Feedback from the event has been positive, the schedule ran smoothly and the speech and Q&A sessions provided useful insights into the key industry issues. Articles covering the discussions, including regulation; DIY investment; IT, technology & processes; and people & talent management, are available to subscribers on thewealthnet.
Wendy Marston Events supported PAM Insight in the organisation of the event through marketing campaigns and guest list management, as while as managing some of the supplier relationships.
Wendy Marston Events is a specialist event planner, focusing on the organisation of awards programmes and their associated receptions, dinners and meetings, from small roundtable breakfast meetings to gala award dinners. Wendy Marston, founder and director, has been managing the PAM Insight's suite of awards and specialist industry dinners for over 10 years.
Companies interested in improving the return on their events and awards programmes can contact Wendy Marston at Wendy Marston Events.
ENDS
About Wendy Marston Events:
Wendy has been running events for business since 2001 and weddings and private events since 2008. Wendy Marston Events specialises in running award programmes, receptions, dinners and meetings, from small roundtable breakfast meetings to gala award dinners.
For further information contact Wendy Marston
Email: wendy(at)wendymarstonevents(dot)com
Web: http://www.wendymarstonevents.com
Phone: +44 (0)7971 203725