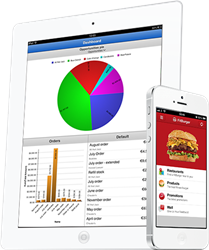 Each business can now easily create mobile apps for its employees, partners and customers. Resco Advantage is a modern CRM that holds all data in one place.
(PRWEB) October 30, 2013
Resco, a leading provider of mobile CRM solutions, releases today Resco Advantage – a modern cloud-based CRM for businesses that want to create mobile applications for various types of users.
The ever-growing trend of business mobile applications continues to rise, yet there still are some businesses that have not approached this new wave. With its new product, Resco hopes to fill the gap between the lucrative market trend and the reality.
Resco Advantage is a modern CRM – a combination of a cloud-based server, which holds all business data in one place, and a console for creation of tailor-made mobile applications, from which users access the data.
Business can so, with one solution, create an app for its field employees (such as sales reps, field workers, agents, or service people) and an app for its customers. A Mobile CRM app for employees can increase their productivity and assure they'll have correct data with them at all times, helping them achieve their goals. Whereas a mobile app for customers can be an ideal marketing channel for distributing promotions, showcasing products & services, or for obtaining instant feedback from users. As Resco Advantage fulfills both parts, it can be for many businesses the only CRM solution they'll ever need.
"Many forward-looking businesses have for long wished for an app of their own. But building one and maintaining it usually costs a lot of money, time & energy. With Resco Advantage they can do it quickly, easily and for a fraction of money they would normally spend." Radomir Vozar, CEO at Resco, points out.
Resco Advantage is available at http://www.resco.net/advantage/. Anyone can test the solution for 30 days, free of charge.
About Resco
Resco, founded in 1999, is one of the global leaders in developing cross-platform mobile software solutions. The team of Resco professionals utilizes its knowledge by designing products for corporate customers, developers, integrators and end users.
For more information, please visit: http://www.resco.net.