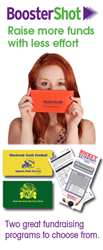 BoosterShot has been instrumental in our community initiative, the Lincolnshire Rotary Scholarships. The response we've gotten from this annual fundraiser has been fantastic.
Lincolnshire, IL (PRWEB) October 31, 2013
Five years ago, the Lincolnshire Rotary launched a new community initiative to raise funds for a college scholarship program. Two annual scholarships of $2,500 each are awarded to graduating high school seniors who demonstrate extraordinary service to the community, and uphold the ideals of Rotary. Additional proceeds support the local Learning Fund Foundation's Science Initiative to purchase new science labs, technology and materials for area elementary schools.
From the outset, the Lincolnshire Rotary turned to BoosterShot to create a Gift-checkbook custom to the Rotary containing hundreds of dollars in valuable offers from local restaurants and merchants. Through sales of these Gift-checkbooks, the Rotary has raised thousands of dollars while supporting local merchants and encouraging consumers to shop locally.
According to Jim Dolan and Alan Nerad, co-chairs of the campaign, "The response to our annual Gift-checkbook fundraiser has been fantastic. Merchants love the Gift-checkbooks because there are no up front advertising costs to them. And, the community loves the dozens of straightforward, value-rich offers in our Gift-checkbook. The Rotary Club gains additional value: the Gift-checkbook puts us in front of the local business community with something of value for them, rather than asking for a donation. It also gives us a highly visible, community-based activity."
Lincolnshire Rotary Gift-checkbooks are sold by members of the club, local merchants, volunteers. They may also be purchased with a credit card in the Lincolnshire Rotary online store.
About BoosterShot
BoosterShot is a premier provide of high value, community-based fundraising programs for schools, youth sports and non-profit organizations. Every fundraising campaign we produce is unique and tailored to meet the specific needs of the fundraising organizataion while extending reciprocal support to community merchants. Everyone wins with BoosterShot. For more information, visit the BoosterShot website at http://www.goboostershot.com.