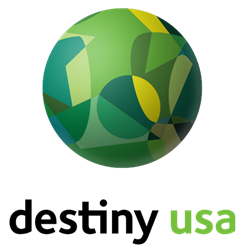 Syracuse, NY (PRWEB) October 29, 2013
"Elegance is not about being noticed, it's about being remembered." – Giorgio Armani
International elegances are infiltrating the scene like never before. Whether it is a winter must-have or a signature piece, Italian couture influences everything from trendy fashions to sleek styles. Elaborate yet sophisticated details amongst timeless patterns and textures lend itself to the importance of fashion as a part of a cultural lifestyle; a lifestyle now available to shoppers across the Northeast and Canada by visiting Destiny USA in Syracuse, NY.
Across the globe, models gracefully take the runway wearing high-end clothing and accessories from Italian designers such as Giorgio Armani, Salvatore Ferragamo, and Tod's. Italian couture has always been attractive to merchandise buyers ranging anywhere from boutiques to major fashion or department stores. Not all of us can take a trip to Italy or even New York City to experience these fashion shows, though.
Now fashionistas can experience Italian fashion and appreciate the rich history behind it, all under one roof, without an expensive trip across the Atlantic. This Italian culture and fashion is now represented across the first level of Destiny USA, alongside other luxury outlets including Michael Kors, BCBG MaxAzria Saks OFF 5th and more. When new stores like this fantastic Italian trio open in one location, not only does the fashion itself hit the scene and become easily accessible, but also the excitement of the Italian experience comes along, too.
Armani didn't make a big splash in the U.S. until 1980, where his Italian touch started to make it to America's big screen. His clothes were worn by actor Richard Gere in the film American Gigolo, which helped to generate a lot of interest. He also provided much of the wardrobe for the hit television series Miami Vice, starring Don Johnson. Wearing Armani became a symbol of success for many business professionals, and still today Armani is sought out for his "power suits".
Salvatore Ferragamo also introduced to America some of today's fashion staples such as the cork wedge heel, originally inspired for model Judy Garland, and the suede ballerina flat, one of his most iconic styles created for actress Audrey Hepburn. Ferragamo quickly became known as the "shoemaker to the stars".
And Diego Della Valle, the creator of Tod's, has a family motto: 'Dignità, Dovere e Divertimento', or 'Dignity, Duty and Fun'. This is the defining feature of Tod's as a family business, and is woven into its cultural fabric. The morals, methods and principles from Italian generations before are incorporated into the designs. Joining with Ferrari, Tod's created a sophisticated collection that is deeply rooted in the most authentic Italian tradition of craftsmanship. This exclusive line includes traits from the Ferrari racing circuit, defined by the unmistakable shade of red, and Tod's traditional precision in the production of exquisite leather goods.
These new luxury outlets coming to Destiny USA are setting the stage for us to be an international fashion destination. The offering of outlet shops at Destiny USA has grown to 10% of the new Gross Leasable Area.
With trends always on the rise and fall, it is important that professional buyers and everyday fashion-savvy shoppers are on the front line of what's in style. Classic statement pieces are what shoppers seek most, and Italian fashions greatly influence this side of the business through its structure, appeal, quality and design. Now Italian couture and Italian inspired pieces are available all year round.
###
Destiny USA is a 2.4 million square foot tourist destination in Syracuse, NY that includes a strong mix of luxury outlet tenants, restaurants and entertainment. New brands are continuing to open to create a unique and dynamic consumer shopping experience. A stunning three-story glass atrium provides perfect weather year round. Oxford Economics has projected an annual visitation rate of over 29 million visitors from throughout the U.S. and Canada. Destiny USA is expected to be the second most visited shopping center in the country, according to Travel and Leisure magazine. It is the largest LEED® Gold certified retail commercial building in the world.