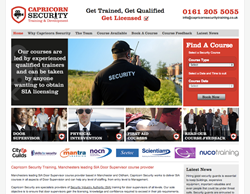 My philosophy has always been, 'every body has to start somewhere' and if it's a career in security you are thinking about the only place to start in the North West is right here at Capricorn Security Training Development.
Manchester (PRWEB UK) 29 October 2013
Since 2004, Capricorn Security has trained over 1,000 clients to become fully qualified and licences security professionals who have gone on to take positions in the industry.
It is now compulsory for individuals working in the private security industry to hold a Security industry Authority (SIA) Licence, which is only available to those who have completed the requisite level of training.
Capricorn Security offer affordable and professional courses to everybody from entry-level to management, and to both individuals and security companies looking to upskill their staff. Course attendees take away higher capabilities in their profession and the opportunity to apply for an SIA Licence if they do not already have one.
Courses include:

Door Supervision
Physical Intervention
Emergency First Aid at Work
External Defibrillation
Capricorn Security has a 20-year history of ensuring the safety and security of film and television sets and celebrities, and has worked on the production sites of Coronation Street, Shameless and Waterloo Road, as well as Hollywood blockbusters like Captain America. Based in the North West, the firm has lasting relationships with some of the main players in British broadcasting, such as the BBC, Hat Trick and Lime Pictures.
For the past 9 years, the firm has been passing on its extensive knowledge of the industry to aspirant security professionals through a wide range of courses available in Manchester and Oldham. These courses can now be easily booked online on the newly launched http://www.capricornsecuritytraining.co.uk/ website.
Managing Director of the company Billy Robinson started out as a doorman in Manchester and has worked his way up through the industry, now offering close protection services to celebrity productions and first-class security guardian to broadcasters.
"My philosophy has always been, 'everybody has to start somewhere' and if it's a career in security you are thinking about the only place to start in the North West is right here at Capricorn Security Training and Development, where you will get first-class training, the correct documentation and some very sound advice about the industry and employment – both the positive and negative aspects," Managing Director Billy Robinson said.
Capricorn Security's training courses come highly recommended by previous clients, with feedback presented on the company's website highlighting the wide range of benefits that comes with booking a course, including:
The opportunity to meet others within the industry and network
An explanation of current job opportunities
Informative presentations
Advice on individual situations
Tracking of each individual learner
Welcoming and knowledgeable instructors
To find out more about Capricorn Security's top-end and affordable courses, click through to http://www.capricornsecuritytraining.co.uk/ to browse and book online.
For more information, contact:
Capricorn Security Training: Capricorn Security are specialist providers of Security Industry Authority (SIA) training for door supervisors of all levels. Our sole objective is to ensure that door supervisors gain the licensing, knowledge and confidence required to exceed their job requirements. Since 2004, we have successfully delivered door supervisor courses to over 1,000 clients.
Capricorn Security: Capricorn Security was formed in 1993 and offers first-class security services to the TV and filmmaking industries. As one of the most established security companies in Manchester we work with a variety of production companies – both big and small – and have long established working relationships with ITV, BBC, Red Production Company, Company Pictures, Shed Productions, Lime Pictures, Hat Trick, Shine, Tightrope Pictures and many others.