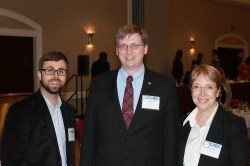 Contrary to popular stereotype, American public servants and administrative institutions are among the best in the world, critical to a functioning democracy.
Richmond, KY (PRWEB) October 31, 2013
Current and former Eastern Kentucky University faculty embraced learning and service during the Southeastern Conference for Public Administration (SECoPA) Annual Conference in Charlotte, N.C., September 25-28, 2013.
EKU's MPA Program Director Dr. LeAnn Beaty values SECoPA's mission. "The primary purpose of SECoPA is to support higher education. SECoPA directly benefits EKU by promoting an academic culture based on public service, outreach and recognition of faculty, students and alumni." Beaty, who is also the coordinator of the new 100% online MPA program offered by at EKU, will serve as a member of the SECoPA board of directors over the next three years. She also serves on the Endowment Committee, which funds scholarships and awards for SECoPA members.
Beaty attended the organization's annual conference along with colleagues Dr. Will Hatcher, and Dr. Matthew Howell. Dr. Hatcher presented research examining the opinions held by municipal budget directors regarding the effectiveness of public participation in the budget process. He also serves on the Finance Committee. Dr. Howell has been invited to serve on the Communications Committee, which oversees the website and communications for the SECoPA.
In addition, former EKU MPA Director Dr. Jo Ann Ewalt assumed her role as president at the annual meeting. She will preside through SECOPA's 2014 conference in Atlanta. Ewalt earned her MPA and Ph.D. degrees from the Martin School at the University of Kentucky and is a member of the NASPAA executive council. She taught at EKU from 2000 to 2011. She currently serves as MPA Program Director in the Department of Political Science at the College of Charleston.
Another highlight of the conference was a panel discussion that included Dr. Charles Goodsell and his newest edition of A Case for Bureaucracy. "The text persuasively argues that, contrary to popular stereotype, American public servants and administrative institutions are among the best in the world, critical to a functioning democracy," explained Beaty.
Conference speakers included Sharon Allred Decker, Secretary of Commerce for North Carolina, who spoke about private-public partnerships and how they can revive local economies. Dr. Bolatbek Abdrassilov, Rector of the Academy of Public Administration under the President of Kazakhstan spoke about the development of the Kazakh civil service reforms in the aftermath of the dissolution of the Soviet Union. He described how, under Communism, there was no concept of a non-party public administration. Now, Kazakhstan is trying to separate political parties from their bureaucracy to reduce corruption and improve government performance in ways similar to the US and European Union.
EKU strives to make quality education accessible to everyone. Eastern is a fully accredited, brick-and-mortar institution celebrating more than 100 years of student success. EKU Online offers more than 20 degree options in a variety of fields, including Nursing, Education, Psychology, Paralegal Studies, Police Studies, Corrections, Juvenile Justice, Occupational Safety, Fire Protection and Homeland Security. For more information EKU's about the flexible, convenient 100% online MPA degree program, visit http://go.eku.edu/secopa.