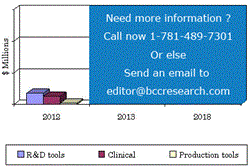 BCC Research projects the global markets for biochips to reach $14.4 billion in 2018.
Wellesley, MA (PRWEB) October 30, 2013
According to a new technical market research report, Global Biochip Markets: Microarrays and Lab-on-a-Chip from BCC Research (http://www.bccresearch.com), the global market for biochips was valued at $3.3 billion in 2012 and is expected to increase to nearly $3.9 billion in 2013. BCC Research projects the market to reach $14.4 billion in 2018, and register a compound annual growth rate (CAGR) of 30% for the period 2013 to 2018.
Biochip-based products have game-changing potential across a range of markets. Growth in next-generation sequencing-based diagnostics applications, use of lab-on-a-chip (LOAC) formats in point of care applications, and migration toward more integrated on-chip systems will impact everything from drug development to diagnostics.
With the discovery of new, clinically relevant genomic and proteomic content, biochips are poised to meet the need for new-generation diagnostics that can measure multiple biomarkers in a single assay. A shift in focus from R&D-related tools to clinical applications that are accurate, easy to use, low cost, and suitable for automation will drive tremendous growth in this market over the next five years.
This report from BCC Research provides a study of the main biochip products that are used in the five end-user segments: research tools, drug discovery and development, diagnostics, sequencing, and applied markets. The report discusses the driving forces in the market, product types, key market applications, companies and alliances, industry dynamics, patents, future market potential, and product sales forecasts for the year 2013 and 2018. In addition, the geographical market sizes for total biochips, LOAC, microarrays and next-generation sequencing are given for North America, Europe, China, Japan and the rest of the world.
The study scope includes the major biochip platforms, including DNA and protein microarrays, tissue/cell and glycomics microarrays, LOAC products and next-generation sequencing. Each platform is analyzed to determine its market status, impact on future market segments, and forecasted growth from 2013 through 2018. Technology status and market driving forces are discussed. Factors that influence the market are also discussed, including growth driving forces, industry alliances and acquisitions, applications in diagnostics and drug discovery, customer needs, and competitive trends are also discussed.
In addition to the main LOAC, microarray and sequencing industries, BCC Research profiles several specialized biochip industry segments including, DNA analyzers, ion channel screening, digital PCR, label-free detection, nanoarray, peptide microarray, antibody microarray, antibody reagents, multiplex protein diagnostics, circulating tumor cell, prenatal screening, point of care CD4 counting, and China's biochips industries through this report. Applications for biochips-based diagnostics, particularly cancer diagnostics are highlighted in this report along with new data about biochip substrate types. As the industry has grown significantly since BCC Research last looked at this market, nearly 300 companies have been profiled in this report to present the latest picture.
This study will be of particular interest to the companies in the following industries: diagnostics, pharmaceuticals, biotechnology, nanotechnology, life-sciences tools, biodefense, medical devices, polymers, glass, materials, bioinformatics, and genetic services. It will also benefit companies involved in drug and/or biomarker discovery programs; manufacturers of microarrays and lab-on-a-chip devices, sequencing instruments; antibodies, restriction enzymes or primers; bioinformatics developers; and cancer researchers and clinicians.
Source: http://www.bccresearch.com/pressroom/bio/global-market-biochips-reach-$14.4-billion-2018