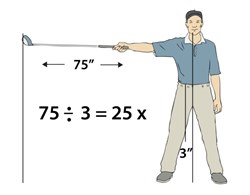 The 25:1 ratio of the distance of the clubhead and hips to the center of rotation means that any increase in hip speed will be multiplied 25X at the club head.
Tiburon, CA (PRWEB) October 31, 2013
Somax Sports Corporation, manufacturer of the Somax Power Hip Trainer, the first aerobic exercise machine designed to increase the strength and speed of hip rotation for golf, is pleased to announce that one of its customers was just voted team captain after adding 25 yards to his drives.
The Power Hip Trainer derives it effectiveness by taking advantage of the hidden speed multiplier built into every golfer, which is the ratio of the 3" distance of the hip joints to the center of rotation and the 75" distance of the club head to the center of rotation. This means that every increase in hip speed will be multiplied 25X at the club head. It is the same principle that allows someone to fly a toy propeller by turning the stick, but not by turning the propeller. This is why hand-held training aids do not improve swing speed as quickly and dramatically as the Somax Power Hip Trainer.
Here is Mr. Jackson's unsolicitied email in its entirety.
Dear Mr. Prichard,
I wanted to offer a testimony for your product.
I played in the first team in 2011 for the Oxford University Golf Team. However, I was picked as a Dinner Blue and not a Full Blue for the Varsity Match, in part because I was deemed not to hit it far enough and therefore would struggle with links golf conditions for the big match. At that time, my swing speed was 95 miles per hour on an indoor launch monitor.
However, having taken 2 years to halve my handicap from 8 to 4 and play in the first team, I knew I could improve this and did some research. I decided to put some money I had received from my college for performance in exams to good use: I bought your Power Hip Trainer.
The results from your hip trainer were quick and pretty effortless. I had previously done resistance training (squats, rows, pull ups), and increasing my strength levels by 30% over 6 months had only added 10 yards to my drives. After 3 weeks of using the power hip trainer two to three times per week, I went to my local professional to test out a new set of irons on an indoor launch monitor. I was told by the professional to stop hitting my irons so hard: I was flying my 7 iron 175 yards, when previously the same swing would deliver a 155 yard shot. My tee shots were going at least 25 yards further.
This year when I went out on the course I drove our flat 335-yard, par 4, 7th hole for the first time. I had previously only witnessed or heard of two of our hyper-athletic club professionals and a former high level rugby player managing this.
I tested out my driver this year on the same indoor launch monitor. I hit 3 drives, each were 106 miles an hour swing speed. This has been an increase of 11 miles an hour since 2011.
A great result of this is I am now captaining the Imperial College Golf 1st Team.
As a former physiology student and now a medical student, I agree with your stance on the importance of flexibility. Having done anatomy, you witness firsthand how strong fascia can be and how it can limit range of motion!
Thank you for making golf even more enjoyable. Your product is worth so much more than what I paid for it. I am very grateful indeed and couldn't be more satisfied with your product.
Best wishes,
Hamish Jackson
Contact:
Bob Prichard
Somax Sports Corporation
4 Tara Hill Road
Tiburon, CA 94920
800-227-6629
bprichard(at)somaxsports(dot)com
http://www.swing-speed.com