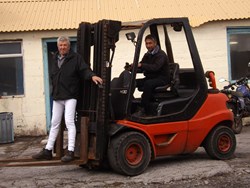 Thanks to Deadgoodundies the men of Tristan have been very warm this winter.
(PRWEB UK) 31 October 2013
The men of Tristan da Cunha are keeping warm in style - and putting long johns supplied by Deadgoodundies.com to all kinds of tests on the rugged volcanic island in the South Atlantic.
More than 1,750 miles from the nearest land, the gentlemen of Tristan have made their long johns work hard while they multitask fishing, welding, mending fences, herding sheep, driving tractors and forklift trucks - and washing up. The island's only policeman, Conrad Glass, has also kept cosy on duty in his long undies. The Inspector of Police is known as the Rockhopper Copper, named after the island's colony of Rockhopper penguins and because he wrote a book of the same name about island life.
DGU's 45 pairs of HOM and Jockey long johns were shipped to the island by Richard James International Limited of Bristol - a voyage that took seven weeks.
The parcel was welcomed by Tristan's Head of Tourism Dawn Repetto who reported this week that the islanders are delighted with DGU's long distance delivery.
"Thanks to Deadgoodundies, the men of Tristan have been very warm this winter. The fishermen have been wearing them to sea, up the mountain herding sheep and out at the potato patches, and when it's really cold, to bed as well!
"The long johns have done their job so well a few of the island ladies have been yearning after a pair. I spoke with one elderly gent and he said, 'Ya they's rale warm, the easterly wind can't get through 'em.' It is often said on the island that easterly is a lazy wind because it doesn't go around you, it goes through you."
Jane Garner, the Deadgoodundies' partner who organised the undies delivery to Tristan after helping the islanders with branding for their unique 37 Degrees South handmade knitwear collection, is delighted. "We salute the men of Tristan da Cunha for putting our men's underwear under the spotlight in a unique and very beautiful setting. The way they were game for having their pictures taken 'in action' is the icing on the cake."
Tristan da Cunha was discovered in 1506 but the roots of current island community - which still has only seven surnames - lie in the establishment of a British garrison in 1816, as a precaution to prevent Tristan being used as a base of operations for the rescue of Napoleon from St Helena, 1500 miles north.
Today the island is famous for rare wildlife, conservation, the world's remotest Post Office and its stamps, Tristan sheep and those hand knitted jumpers and hats, plus gourmet lobster. The island is also the most important place on the planet for the breeding of seabirds, albatross and petrels especially, and home to the world's smallest flightless bird, the Inaccessible Island Rail, Southern Right Whales and a pod of one of the world's rarest and least-seen creatures, the reclusive Shepherd's Beaked Whale. Nearly half of the Tristan da Cunha landmass forms two UNESCO World Heritage Marine Sites.
The Tristan Tests long johns report came as the thermal underwear season got well underway at Deadgoodundies.com, as Jane explains: "Long underwear is being bought as much as a fashion statement as for its performance this autumn. Sales started to rise early this year, in August, and we have to keep restocking favourites. Long johns can be plain and practical, or cheerfully coloured or patterned. Plaid johns are especially popular.
"And now we know from the Tristan Tests that our long johns can also beat an easterly wind on the remotest island in the world. Quite an accolade."
Company Information
Deadgoodundies is an online only retailer stocking the best in designer men's underwear and swimwear from all over the world including: (in alphabetical order) Big Boys, Body Art, Bruno Banani, Bum-Chums, Clever Moda, Doreanse, Ergowear, Gregg Homme, HOM, Jockey, Joe Snyder, MANstore, Mundo Unico, Olaf Benz, Pikante, Roberto Lucca and Sloggi. DGU stocks everything from thongs and strings to briefs, hipsters and shorts as well as selected loungewear, socks, T-shirts and more from their bestselling brands.
DGU are incredibly media friendly and always have high res images for fashion pages and samples for photo shoots as well as expert comment and market insight from partners Adam Davies and Jane Garner.
For more information contact DGU PR Jane on 01743 271615 (international +44 1743 271615) or email pr(at)deadgoodundies(dot)com.