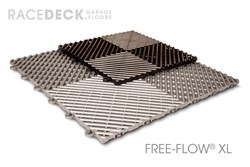 "The new Free-Flow XL is just another example of what sets us apart from the competition - superior technology and made in the U.S.A. quality." - Jorgen Moller, RaceDeck CEO
Salt Lake City, UT (PRWEB) October 30, 2013
RaceDeck®, the world's leading manufacturer and supplier of premium garage flooring, has introduced their patented Free-Flow XL®, the largest full-suspension garage floor module on the market.
Free-Flow XL joins the top rated RaceDeck product line, already established as preferred flooring for garages, shops, and show rooms around the globe. The open-top design of Free-Flow is engineered for maximum airflow and superior drainage of liquids and debris. Free-flow's patented channeled under-structure encourages liquids to flow away freely and evaporate, keeping you and your vehicles high and dry no matter the season. Free-Flow and Free-Flow XL provide increased safety in wet conditions making the product ideal for garages in harsh winter climates and areas with increased rainfall. The easy to clean surface, resistant to petroleum products and most household chemicals, makes for limited required maintenance all year round.
The 2.25 sq. foot Free-Flow XL module is the latest addition to over a dozen styles of garage flooring in the RaceDeck line-up. Unlike key competitors, all RaceDeck flooring styles have the ability to interlock, creating limitless design possibilities for the garage enthusiast. Like its predecessors, Free-Flow XL was engineered using the superior manufacturing processes that have come to be associated with Racedeck, ensuring unmatched durability and cosmetic finish. With RaceDeck you are sure to have 'The Coolest On The Block'™.
"The new Free-Flow XL is just another example of what sets us apart from the competition - superior technology and made in the U.S.A. quality." – Jorgen Moller, RaceDeck CEO
Manufactured in Salt Lake City, Utah, RaceDeck garage flooring systems are engineered to withstand the toughest of environments, from commercial shops and home garages, to showroom floors and trade shows. The patented PowerLock™ technology and Step-N-Snap design makes for an easy and fast installation, no tools necessary, a true DIY garage flooring system. The preferred alternative to toxic epoxy, RaceDeck's variety of floor styles and colors transforms garages to the 'Coolest Garage On The Block™' in hours not days. The easy to clean, chemical resistant surface has helped make RaceDeck the undisputed number one garage flooring world-wide.
The team at RaceDeck offers unmatched experience. As the inventors of the modular garage flooring industry and holders of over 18 patents, the RaceDeck crew continues to engineer, manufacture, and distribute the top products in the industry. Products are proudly made in the U.S.A. from the Salt Lake City, Utah headquarters. SnapLock Industries, RaceDeck's parent company, has been awarded ISO 9001:2008 Certification for its Quality Management System, demonstrating its uncompromising commitment to manufacturing and providing the highest quality products and services to its customers. RaceDeck manufactures in their 150,000+ square foot ISO 9001:2008 Quality Certified operations 24x7 and is supported by an authorized global network.