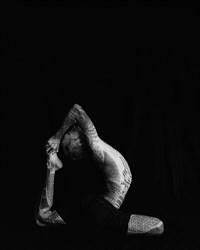 We are very excited to introduce the "Asana of the Week' for our members, we have been working with Phil, from Jivamukti Yoga London, for a while now and as you will see the images speak for themselves- really capturing the beauty of the asana.
(PRWEB UK) 30 October 2013
bluShiva continues to add new and engaging features for its members. Earlier this month we saw the addition of bluChat and bluNews, making this social network for yogis more informative and interactive for its members.
This new feature 'Asana of the week' sees the collaboration of London-based yoga photographer Richard Pilnick who is highly acclaimed for his work Portraits of A Soul and will be exhibiting in the National Portrait Gallery, London, from November 14th, and yogi Phil Douglas, advanced yoga practitioner and co-owner of Jivamukti Yoga London and bluShiva, the first social network for yogis. The result is an extensive portfolio of various asanas each one capturing the essence of the asana.
Every week a new asana will be added to the collection with an explanation on the posture and for the more advanced poses, a how to guide to help you work towards achieving the pose. Simon Grunberger, founder of bluShiva.com explains, 'We are proud to be a part of this collection of work and to be able to share it with our members all over the world. In bringing Richard and Phil together for this feature, I believe we have created the dream team. Richard is a master at capturing the true beauty of each asana through his attention to detail and passion for photographing the human body; together with Phil, we have created a collection of work which we are all extremely proud of and eager to share with bluShiva members.'
Asana of the week is now live on bluShiva.com; have a look at the first Asana here. bluShiva.com offers a space for yogis to meet online, connect with other yogis in their area and around the world. The events calendar allows teachers and studios to upload their classes and events and where students can see what is happening near them. If you are looking for a yoga class, look no further than bluShiva.com. To become part of this yoga community, visit http://www.blushiva.com.