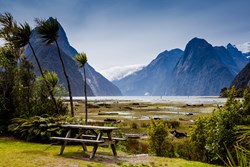 Queenstown is an undisputed adventure sports capital, located a mere a stone's throw from spectacular Milford Sound.
Glendale, CA (PRWEB) October 30, 2013
This season, those after serious travel bragging rights can tell friends they escaped to Te Ika-a-Māui for the winter, or cruised down the spectacular fjords of Te Waipounamu.
Of course, just calling these islands 'New Zealand' would be unlikely to offend locals. The picturesque island nation officially named its two main islands for the first time in October this year. The names are a nod to their original Maori titles, which even appeared on maps up until the 1950's. The North Island's restored name is Te Ika-a-Māui, meaning Fish of Maui, while the South Island will now be known as Te Waipounamu, meaning place of greenstone.
The fact that it took 200 years since European settlement to name the islands tells something of the laid back lifestyle that enchants those willing to make the trip!
In every corner of the country, adventure options abound. Sailing across the Bay of Islands offers the ultimate unique blend of history and natural beauty. The mud pools of Rotorua showcase the geothermal laboratory that bubbles beneath New Zealand's surface, while on the South Isl… that is, Te Waipounamu, Queenstown is an undisputed adventure sports capital, located a mere a stone's throw from spectacular Milford Sound.
For snowbirds wanting a more traditional version of island paradise, Tahiti remains a popular and stunningly beautiful destination. For the first time, Goway Travel is offering the best of both worlds with three exciting packages pairing New Zealand with one of Tahiti's picturesque islands, Moorea or Bora Bora.
These innovative packages allow travellers to enjoy all the charm of tropical paradise in the South Pacific, before setting off on an unforgettable New Zealand tour. An 11 day itinerary lets guests explore beautiful Moorea before flying to Auckland, gateway to New Zealand's historic North Island – or Te Ika-a-Māui, to be exact!
For those with more time, a 16 day trip starts in Bora Bora, the world's most spectacular honeymoon island, surrounded by a natural lagoon and an unspoiled coral reef. The mountainous Tahiti of jaw-dropping postcards, it whets the appetite for a journey through both of New Zealand's main islands. Guests can enjoy an itinerary designed to maximize sight-seeing, or indulge in the ultimate South Pacific escape, with luxury boutique accommodation, unique experiences and specialized excursions included.
The 11 day airfare-inclusive package, including Moorea and Te Ika-a-Māui, starts at just US$2999 departing Los Angeles or CA$3399 departing Vancouver. The basic, air-inclusive 16 day package includes Bora Bora and both of New Zealand's main islands, starting at US$6099 from Los Angeles or CA$6599 from Vancouver.
Since 1970, Goway has been providing unforgettable travel experiences to Africa, Asia, Australia and New Zealand, idyllic island destinations and Latin America. Today Goway is recognized as one of North America's leading travel companies for individuals, families and groups to select exotic destinations around the globe. Goway has offices in Los Angeles, Vancouver, Toronto, and Sydney (Australia).
For reservations and information, visit http://www.goway.com, call your Travel Professional or 1-800-387-8850.