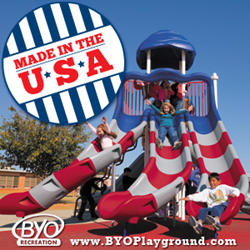 BYO Recreation prides itself on its goal to 'create more play' for America's children.
St. Augustine, FL (PRWEB) October 30, 2013
BYO Recreation urges child care facilities nationwide to 'buy American.' Purchasing playground equipment from a vendor who imports their products from overseas comes with a variety of risks that need to be evaluated before making a final decision.
Buying playground equipment that has been imported creates the possibility of receiving a lower quality product. Quality is an abstract idea that can differ in various cultures and markets, often times leaving buyers unsatisfied because they did not get what they paid for. A common problem with foreign playground equipment is that the plastic colors fade faster. More importantly, any equipment that has been imported may not have been designed to meet U.S. safety standards.
Purchasing American-made playground equipment ensures that it meets the rigid safety standards of the American Society of Testing Materials (ASTM) and the Consumer Product Safety Commission (CPSC). Additionally, buyers can rest assured that the equipment was designed with the Americans with Disabilities Act (ADA) standards in mind. Companies like BYO Recreation offer custom playground design services that are guaranteed to meet or exceed ASTM, CPSC and ADA requirements and guidelines.
Another point of concern is if the equipment is damaged, missing a part, or is overall unsatisfactory. It can be costly and will take a long time to return it and get replacement parts, setting back the completion date of the playground project.
Buying American products not only provides the buyer with safe and secure products, but it also helps to create employment within the United States. The playground industry is a big part of creating these essential jobs. Ultimately, every piece of playground equipment that is purchased and made in the States helps America as an entire society.
BYO Recreation prides itself on its goal to 'create more play' for America's children. The company's Create More Play Program gives child care facilities nationwide the opportunity to purchase made-in-the-USA playground structures at an extremely reduced rate. The program offers facility owners 100-percent matching funds for featured Create More Play structures until Dec. 20!
To learn more about BYO Recreation's Made-in-the-USA playground equipment, call 1-800-853-5316 or visit http://www.byoplayground.com/createplay.
About BYO Recreation
Headquartered in St. Augustine, FL, BYO Recreation is one of the most comprehensive and fastest growing recreational equipment suppliers in the world. Since 1999, the company has helped thousands of schools, churches and communities create recreational spaces that are truly Beyond Your Ordinary. For additional information about BYO Recreation, visit http://www.byoplayground.com.