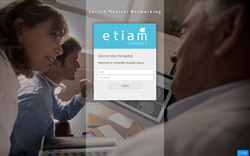 When a hospital utilizes ETIAM-Connect, they need not worry about hackers stealing valuable patient data from a remote cloud.
Cambridge, Massachusetts (PRWEB) October 30, 2013
The release of the new ETIAM Nexus 4.2, the core Digital Imaging and Communications in Medicine (DICOM) router of ETIAM-Connect services, will be launched and available for demonstration at the upcoming Radiological Society of North America Annual Meeting on December 1 – 6 in Chicago, Illinois. ETIAM-Corp will provide registered attendees with a full test drive of the software at booth #7208 during the conference.
The Nexus 4.2, which is the powerful workflow engine behind ETIAM-Connect, is an intelligent DICOM router which allows for the secure and instant exchange of medical files between institutions. Installed within a healthcare institution, ETIAM Nexus 4.2 connects to the local picture archiving and communication system (PACS), or any local imaging modality, and allows clinicians to submit opinion requests to remote experts, by exchanging both imaging and clinical data securely over the internet, using encrypted data exchange services operated by ETIAM.
Unlike other medical data transfer solutions, "when a hospital utilizes ETIAM-Connect, they need not worry about hackers stealing valuable patient data from a remote cloud. With ETIAM-Connect, no patient information is stored on the cloud. Without storing patient data in the cloud, medical professionals and hospitals can be assured that patient data is secured" said Ron Chabot, General Manager of ETIAM Corp.
The new release of ETIAM Nexus 4.2 has a redesigned user's interface, optimized for quick and intuitive handling by all medical staff including emergency physicians, radiologists, and surgeons. The platform is entirely web based, making it accessible from any computer, mobile device, or tablet, using a web browser. Based on the latest web technology, ETIAM Nexus 4.2 contains a new HTML5 Web viewer making it possible to view medical images without having to install browser add-ons, further addressing the concerns of information security with patient data.
ETIAM Nexus 4.2 also supports various structured forms allowing healthcare professionals to quickly upload relevant clinical information along with images when collaborating with remote experts. The ability to handle multiple medical forms makes it possible to use ETIAM-Connect for needs such as stroke, second advice requests, tele-radiolody, and tele-dermatology.
To date, several hundred institutions worldwide are using ETIAM-Connect and more than 100 Million medical images are exchanged monthly.
About ETIAM Corp
With more than 2,000 customers in North America and Europe, ETIAM solutions allow physicians to securely and reliably exchange medical images while benefiting from 24/7 support. The company's expertise in international healthcare standards, including DICOM, HL7 and IHE profiles, uniquely positions it to provide solutions for hospitals and healthcare vendors worldwide.