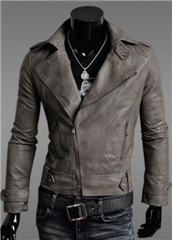 (PRWEB) October 30, 2013
4leafcity.com is a renowned web store that supplies stylish clothes for men. It has recently added new outfits to the already much appreciated collection of men's leather jackets. The website also features colorful leggings to go with these club wear outfits.
The collection of men's leather jackets is a quite famous category at 4leafcity.com. The designs included in this collection are high quality and perfect to wear at many occasions. To top it up, every jacket in this ravishing collection is cheap or carries a great discount. In addition, high quality women's dresses are also offered here. All of them are beautifully made and are set in striking colors.
The company, with the reputation of being one of the finest dress suppliers in the market, strives to offer highest quality products in the lowest possible prices. It has a team of dedicated workers which work hard to move towards company's goal of offering best to the customers. The website has a huge collection of not only women clothes but men clothes as well. It also features different accessory items for both men and women. The company says, "If you're tired of going out and finding someone else with the exact same outfit, or if you're looking for a new, fresh look that nobody else has then you're at the right place. We offer the latest (almost daily) in women's fashion from the high-streets of London, Paris, Tokyo, Shanghai &New York at a price you can afford."
Based in China, 4leafcity.com was founded in the year 2008. In just a short period of 5 years, it managed to move to the top in the women fashion clothes supplier market. Today it is popular for offering ravishing clothes at low rates. For more information, please visit: http://www.4leafcity.com/product-men-s-leather-jackets-009003002.aspx.