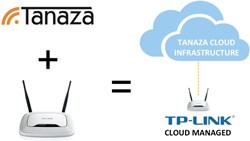 Using Tanaza to empower my TP-Link Access Points is like getting the superpowers!
Milan, Italy (PRWEB) October 30, 2013
TP-Link is one of the better known brands worldwide, when speaking about the Wi-Fi market. Their devices are the lowest cost ones. They are not like Cisco, let's say, but they do the job in a fair way. This is especially true when considering the TP-Link WR941ND model.
The main thing that the device is missing is some centralized management feature and roaming capabilities. The typical scenario is that the Managed Solution Providers targeting cafés, restaurants, and small hotels with a tight budget used to get low-cost TP-LINK WR941 devices, deploy, and then configure each one of them one-by-one. What a pain. What if these low-cost TP-Links could be managed through a centralized dashboard?
This is exactly what Tanaza does. Tanaza can upgrade a variety of TP-Link Wi-Fi Access Points to introduce an empowered feature set, from real-time monitoring capabilities to even roaming in the near future. Tanaza (http://www.tanaza.com) is the first cloud-based software-as-a-service that allows to create a centralized Wi-Fi infrastructure with multi-vendor devices.
Massimiliano Pacioni, Director at WIFi Project (http://www.wifiproject.it), a Managed Solution Provider that recently deployed a few hundred Tanaza Powered APs in all parts of Italy, declares that "Tanaza enabled me to have extreme levels of efficiency. Cloud managing a TP-Link for the first time has been an amazing experience, like getting superpowers. I could finally deploy super-low cost WLAN with one click, reboot the APs remotely, perform firmware upgrades, see clients stats, and all from my cloud dashboard (cloud.tanaza.com). Best of all, I have the freedom to also mix them with Ubiquiti or higher end devices, where the requirements are more demanding."
Joanna Wall, Tanaza Channel Manager, stated "A lot of partners joined our Partner Program recently. Some of them are very happy to use TP-Link low-cost devices, others like the Ubiquiti price/ performance ratio, which are perfect for Small Businesses. We can support all of them as our mission is to provide the simplest cloud dashboard that works with any hardware. Adding support for WR941 hardware version 5 has been the latest one, but more are on the way."
About Tanaza
Founded in 2010, Tanaza's mission is to make Wi-Fi management easy and affordable, enabling remote management of any vendor access points in multiple locations through one intuitive interface.
A demo, free trial or quotation is available by contacting your local Tanaza Channel Partner or Tanaza http://www.tanaza.com, sales(at)tanaza(dot)com or +39 02.8718.8553.