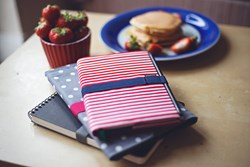 Functional, simple, yet original and playful.
(PRWEB UK) 31 October 2013
Bureau Direct have announced that they will be stocking the innovative and exciting new stationery from Papelote, a Prague-based company that brings colour and fun into practical everyday items such as notebooks and pencil cases. Bureau Direct are committed to sourcing exotic and unusual stationery from across Europe and the World. Bureau Direct are very pleased to be able to add the Czech Republic to their current roster of countries.
Papelote have a mission to draw on the rich history of paper-based products and also on the history of Prague and the Czech Republic, and to create stationery that is, in their own words, "functional, simple, yet original and playful". Their products are unusual and often make you stop and look twice. All materials are sourced as being recycled or environmentally friendly.
Bureau Direct have chosen to import a range of stationery from Papelote due to the unusual, fun and yet practical nature of it, being both useful and yet tactile and well-designed. Items range from notebooks with a fabric outer cover which doubles as a pocket to hold essential items, through to a range of brightly coloured felt items that serve as a protective sleeve for tablet PCs or a felt case that can be hung up when not in use. Other items include a fabric cover that can be used on other notebooks and pen loops that act as a means of keeping notebooks closed and secure.
Bureau Direct will be making Papelote one of the central ranges in their Christmas Stationery Gift Collection for Christmas 2013. It's colourful playfulness looks set to be a popular choice for people looking for alternative gift ideas, where the essential nature of stationery can be seen as a positive rather than a negative.