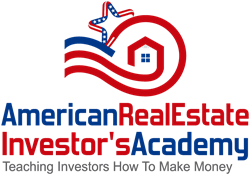 Atlanta, GA (PRWEB) November 01, 2013
Larry Goins becomes the latest real estate guru to join the esteemed American Real Estate Investors Academy Board of Advisors. Larry brings a wealth of experience and technical knowhow to the board.
The American Real Estate Investors Academy is a unique online learning environment for people who wish to use real estate as their vehicle to achieve financial success. The academy is turning the world of real estate education on its head. The goal of the academy is to replace the old speaker and real estate club model with a new modern approach to providing much needed high quality real estate education.
Larry Goins is an industry leader. His home study courses cover using the internet to buy and sell houses is groundbreaking. This introduction is taken from Larry Goins official bio "Larry H. Goins is not only a private money lender in North and South Carolina; he is also licensed in both North Carolina and South Carolina as a Real Estate Broker and General Contractor. Larry has been investing in Real Estate for over 20 years.
Larry has served as President of the Metrolina Real Estate Investors Association, the largest non-profit investment association in the Carolina's. Larry has two books that are available wherever books are sold. Getting Started In Real Estate Day Trading and HUD Homes Half Off! Larry is an active real estate investor and travels the US training audiences at conventions, expos and Real Estate Investment Associations on his strategies for buying 10-20 properties per month without ever leaving his office."
Larry has agreed to allow the academy to offer his home study course to members of the American-REIA. For more information go the club's "Home Study Course" page.
Anyone interested in learning how to make money in real estate should consider enrolling in the academy. There is no fee to enroll, and a significant amount of learning material is generated and sent to members on a monthly basis.
The academy is currently building an online real estate university, and working toward full accreditation. Larry Goins will be among the real estate experts who will be providing educational content to academy students.
At this time the academy is searching for new and innovative ways to provide good quality education to real estate investors. Unlike many other top down structures, the academy takes advice from known experts as well as fans and students of the academy. Anyone who has a unique suggestion for how to improve real estate teaching methods; or anyone who wishes to be considered as an educator should email Managing Director Josh Caldwell at Josh(at)American-REIA(dot)com.