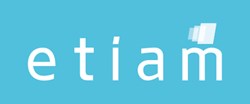 They now have the added sense of security, knowing that sensitive patient information is not stored in the cloud, rather sent direct to the point of care in real time.
Cambridge, Massachusetts (PRWEB) October 31, 2013
Within the medical and radiology fields, there has been an increase in security concerns regarding information security with patient's records. Hospitals are becoming aware of the security risk cloud-based medical systems pose to patient's private information. In response to the increasing number of security breaches in hospitals worldwide, Etiam has offered a state-of-the-art, medical image sharing solution called ETIAM-Connect.
According to the New York Times study by the Ponemon Institute, over the past two years, roughly 90% of hospitals in the United States have been a victim of a data breach in their networks. In 2011, a stolen laptop in Massachusetts exposed one of the most severe security threats a hospital can face. The stolen laptop housed 100,000 patient records with sensitive patient data such as names, social security numbers, addresses and diagnosis.
Not only can this deeply blemish a hospital's reputation, but it can carry major fines and repercussions. In 2012 according to a BBC study, Brighton & Sussex University Hospitals suffered their largest security breach ever. The breach was so strong, it was estimated the cost of the damages amounted to over half a million dollars. The data was then sold on eBay, passing precious patient data into anonymous hands.
Etiam offers a secure solution that strengthens the gap between the secure access of patient data and sharing of these images with other physicians. ETIAM-Connect serves as a platform that connects hospitals and physicians in real time so they can share medical images and studies. The platform eliminates cloud based storage, and ensures studies and data are securely sent to professionals directly from the point of care.
"ETIAM-Connect not only allows medical professionals to seamlessly share images and studies between each other, but they now have the added sense of security, knowing that sensitive patient information is not stored in the cloud, rather sent direct to the point of care in real time," said Ron Chabot, North America General Manager of Etiam.
ETIAM-Connect is the fastest solution for electronically sharing medical images and clinical data securely over the Internet among institutions. Not only does ETIAM-Connect provide a stable and secure channel for sharing data and related studies, but it also provides a clear platform to handle the data when it arrives to the institution.
ETIAM-Connect streamlines emergency department patient transfers, referring physician collaboration, multi-disciplinary team workflow, teleradiology cases, and specialty treatments such as stroke protocol and oncology. Currently, several hundred hospitals worldwide have recognized the gains of using ETIAM-Connect, benefiting from its secure platform, reduced repeated imaging studies, and associated cost savings.
About ETIAM Corp
With more than 2,000 customers in Europe and North America, ETIAM Corp's solutions allow physicians to securely and reliably exchange medical images while benefiting from 24/7 support. The company's expertise in international healthcare standards, including DICOM, HL7 and IHE profiles, uniquely positions it to provide solutions for hospitals and healthcare vendors worldwide.