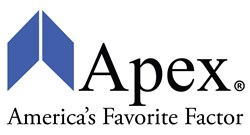 Fort Worth, TX (PRWEB) October 30, 2013
Apex Capital released its first new update of its Mobile App, including four featured updates. With the update, customers can now login via a custom PIN, navigate the app via drawer navigation, use the reports section to track schedules and funding, and access the fuel finder to search remote locations.
With the PIN feature, Apex clients can log into the app using a custom-selected PIN number of their choice. Clients can then use this to log in instead of typing out a username and password each time. This allows for a faster login and increased security.
The left-hand drawer navigation allows for easier use of the app and the new reports section allows clients to track schedules and funding. All of the items on the Apex client website dashboard are now included as reports in the app. This includes a client's aging report, concentration, recent fundings, and recent schedules reports. Clients can also now use the fuel finder to search remote locations and with their personal dashboard that shows schedules and funding.
The initial launch of the mobile app, released in mid-July 2013, included a credit check, fuel finder, account access and a feature allowing customers to contact Apex directly from the app.
The mobile app was designed in house, by Apex staff, so the app's features and experience are designed specifically with Apex clients in mind to best serve client needs. Instead of having to be in the office to access important Apex account information, app users will be able to work conveniently from the road.
About Apex Capital
Founded in 1995, Apex Capital provides more than just cash flow for clients. Apex provides honest and innovative full service freight bill factoring, a competitive fuel discount program and total management of accounts receivable. Apex works with the Alliance for Safe, Efficient and Competitive Truck Transportation (ASECTT) and other organizations to ensure fair legislation and regulation of the trucking industry in order to keep the industry competitive and profitable for America's freight haulers.
Apex is a privately held company in Fort Worth and has been voted one of the top companies to work for in Texas for the last 5 years. For more information call 800.511.6022 or visit http://www.apexcapitalcorp.com.