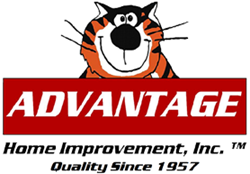 Why wait until spring to build your new deck, when you can get it done early and enjoy it come spring?
Nashville, TN (PRWEB) October 30, 2013
Home remodels or additions are commonly thought of as a "spring cleaning" project, or a "face-lift" for welcoming in the warm weather. But most people don't realize the advantages that come with taking on these projects during the winter versus the spring.
Companies, such as Advantage Home Improvement, actually offer incentives during the winter season to make home renovation easier for families to take on during the cold months. This season, Advantage is offering a five percent discount off the entire contract price for the months of November through February.
"I want families to realize that it is okay to do construction during the winter months," said CEO of Advantage Home Improvement, Joe Orange. "Why wait until spring to build your new deck, when you can get it done early and enjoy it come spring?"
For the unconvinced, here are 3 reasons why winter is a great time for home renovation.
1. Winter Incentives. As stated before, home improvement companies, such as Advantage Home Improvement, offer winter incentives to aid in the ease of winter home renovations.
2. Early bird gets the worm. By scheduling repairs during the winter months, you are putting yourself ahead of the spring renovation crowd.
3. Sit back and enjoy. The only thing left to do come spring is enjoy the new addition or renovation to your home, making this the most important reason to schedule a renovation project during the winter season.
Not sure what project to embark on this winter? Kitchen renovations or bathroom remodels are both great ways to take advantage of the winter incentive. Also, try renovations inside the home, such as turning a garage or basement into a bonus room.
About Advantage Home Improvement
A leading home improvement and remodeling contractor, Advantage Home Improvement offers professional grade services for Nashville, Murfreesboro, Franklin and the surrounding areas. From commercial and residential roofing to kitchen and bath remodeling, Advantage Home Improvement is a proven contractor that can handle a wide range of projects. All of their work is guaranteed by an industry leading workmanship warranty. Founded in 1957, AHI has built a solid reputation over the past 50 plus years producing superior workmanship, using quality materials and providing world-class customer service.