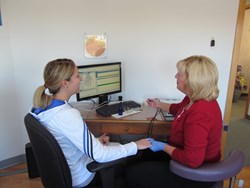 I am committed to providing most comprehensive naturopathic health service available. Having the ability to link my clients to the services offered by 23andMe and EnteroLab is beneficial.
Orland Park, Illinois (PRWEB) October 29, 2013
When a client concludes their visit with Barbara Griffin, NMD, CNC, Certified Gluten Practitioner and owner of Vital Health, Inc., they are equipped with a wealth of information regarding their overall health. In some cases, going a step further and having specialized laboratory testing completed can confirm or close the gap on any uncertain health concerns a client may need to have answered.
Dr. Griffin shared, "I am committed to providing my clients with the most current and comprehensive naturopathic health service available. In order to ensure this goal is met, I attend numerous cutting edge conferences, as well as look for new ways I can expand upon the services I offer. Having the ability to directly link my clients to the specialized services offered by 23andMe and EnteroLab will prove to be beneficial."
By using a client's DNA information, 23andMe helps them learn about their genetic traits so they can take an active role in managing it. With reports on over 240 health conditions and traits, 23andMe provides a wealth of information on inherited health risks, drug responses, and offers health tools. EnteroLab is a registered and fully accredited* clinical laboratory specializing in the analysis of intestinal and saliva specimens for food sensitivities (reactions by the immune system to common proteins in the diet) that cause a variety of symptoms and diseases. EnteroLab has developed a unique screening test for gluten sensitivity, as well as for other antigenic sensitivities. Additionally, EnteroLab can identify specific HLA genes linked to celiac and other autoimmune issues.
"An attractive feature for both companies is that all steps, including test sample collection, are confined to the privacy of client's home. The results are sent directly to the person, and if requested I can receive a copy as well. I am available to review the results and answer any additional questions," remarked Dr. Griffin.
Vital Health, Inc. client, Linda Gannon, Oak Lawn, Illinois, who brought her 12-year-old daughter to see Dr. Griffin regarding her multiple food allergies, shared, "During my daughter's visit, Dr. Griffin completed an iridology analysis. While looking at my daughter's iris, Dr. Griffin shared that a potentially weak part of her genetic make-up was her heart. It was interesting that Dr. Griffin shared the information about my daughter's heart, because my daughter was diagnosed with supraventricular tachycardia and had a cardiac ablation."
Gannon continued, "Since my daughter was adopted at birth from South Korea and with no biological medical information known, when I learned about the genetic health information that can be obtained through 23andME I was interested. Having information on her inherited conditions can help me understand her genetic health risks. What also made me feel comfortable was that Dr. Griffin would be available to review the wealth of information I will receive back."
For more information please visit Vital Health, Inc.'s website, http://www.vitalhealth.org by clicking on "Lab Testing". Dr. Griffin advises her clients to check with their doctor before beginning any new protocol.
About Vital Health, Inc.:
At Vital Health, Inc. Dr. Griffin integrates a whole body approach with the intention of facilitating wellbeing and optimal health amongst her clients. Dr. Griffin's specialties include: traditional naturopathy, nutrition, EAV Meridian Stress Assessment, Food Sensitivity Screening, Environmental Screenings, Iridology, SKASYS, Live Blood Cell Analysis as well as established integrative therapies such as Neuroemotional Therapy, Neuromodulation Technique, Cold Laser and clinician for Spectracell Laboratories, Inc. Vital Health, Inc. 9031 W. 151st Street, Suite 210, Orland Park, IL 60462, (708) 226-1131, http://www.vitalhealth.org.