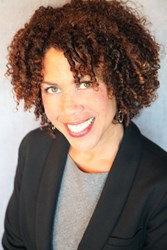 Karen's understanding and passion for the mobile space is no doubt why she is being recognized as Mobile Women to Watch 2014.
New York, NY (PRWEB) November 05, 2013
Aurnhammer congratulates Karen Pattani-Hason for being named one of Mobile Marketer's prestigious Mobile Women to Watch for 2014. Karen joined Aurnhammer as Head of New Business and Partnerships in 2012 and has been integral in developing strategic partnerships for Aurnhammer. "Karen's understanding and passion for the mobile space is no doubt why she is being recognized as a Mobile Woman to Watch in 2014. She's a relentless advocate for mobile and how it will shape the future of brand engagement," said Bill Aurnhammer, Aurnhammer CEO.
Before joining Aurnhammer, Karen has held strategic positions in finance, entertainment, market research and mobile web with JP Morgan Chase, MTV Networks, Sony Music, Millward Brown, and Usablenet. She has a BA in Economics and French from Tufts and an MBA in Marketing and Media Management from Columbia Business School.
"From the minute I met Karen I knew she was more than just another MBA from Columbia University," said Donn Gobin, Aurnhammer COO. "She has a magnetic personality and has a fantastic ability to cultivate partnerships that are mutually beneficial."
About Aurnhammer
Aurnhammer, headquartered in New York City, is a creative media, custom design and development company specializing in branded smart applications for mobile. Aurnhammer has provided creative solutions for clients such as: Sony Music Entertainment, Showtime Networks, Kohler, Foxwoods Resort Casino, Lumber Liquidators, Bass Pro Shops, Mass Mutual, Bowers & Wilkins, Extra Innings, Stanley Hand Tools, Russian Standard Vodka, Century 21 Real Estate, and Planet Fitness. Besides technological skill in coding and programming, the Aurnhammer team brings collective experience in the fields of film and television production, digital arts, and graphic design. At the company's core is a solid team of strategists, designers and programmers who work in a variety technologies and platforms to flawlessly bring these ideas to life. Visit http://www.aurnhammer.com and follow @Aurnhammer on Twitter.