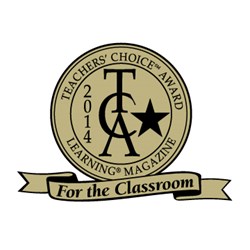 Mentoring Minds is keenly focused on developing resources to support teachers.
Tyler, Texas (PRWEB) October 30, 2013
Today Mentoring Minds announced that two of its classroom resources are winners of 2014 Teachers' Choice Awards for the Classroom. The company's Math Vocabulary Adventure and Differentiated Instruction Guide are among the best classroom-tested, teacher-recommended products available today, according to the expert educator-judges at Learning Magazine.
Each year, a nationwide panel of educator-judges names the standouts in books, classroom supplies, educational games, websites and more. The Mentoring Minds' products underwent two rounds of rigorous judging for quality, instructional value, ease of use and innovation; the products with the top scores were selected to win.
"As teachers around the country face the challenge of implementing the Common Core State Standards, Mentoring Minds is keenly focused on developing resources to support them as they ensure that every student develops the critical thinking skills requisite to meet these new, more rigorous learning goals," said Robert Bush, CEO of Mentoring Minds. "We are incredibly honored that the Teachers' Choice Awards' educator-judges recognized the ways that our Math Vocabulary Adventure and Differentiated Instruction Guide will help achieve these important goals."
Math Vocabulary Adventure helps students in grades 1-5 develop Common Core math vocabulary through critical thinking, problem solving and journaling activities. Questions and activities based on Bloom's Taxonomy guide students to higher-level thinking and enhance vocabulary meaning with depth and complexity.
One of Mentoring Minds' numerous tools to support classroom learning, the Differentiated Instruction Guide helps teachers identify and meet the needs of the diverse learners. The guide provides background knowledge, techniques, tools and strategies for differentiated instruction.
About Mentoring Minds
Founded more than a decade ago, Mentoring Minds develops affordable, effective learning tools that give students the skills to succeed, not just in the classroom, but in life. The company's dynamic team of experienced educators works with thousands of schools across the nation that use Mentoring Minds' K-12 resources to create classrooms where students learn how to problem solve and teachers are confident in their ability to help each student succeed in the 21st century. For more information about Mentoring Minds, please call 800-585-5258 or visit mentoringminds.com.