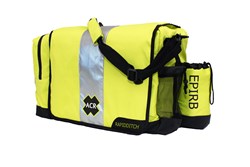 A ditch bag which includes a tethering system, designed to keep your crew and emergency items connected in the water.
Ft Lauderdale, FL (PRWEB) October 31, 2013
ACR Electronics introduces their new and improved line of ditch bags at this year's Ft. Lauderdale Boat Show, the product that matters when there are only seconds left. The previous ditch bags have been further complimented with enhanced features such as compartments, bold reflectivity strips, and an intricate tethering system, which all come together to maximize convenience for boaters in an emergency situation. Not only has the functionality of the RapidDitch Bag improved but so has the color. The new RapidDitch Bags now made in ACRtreuse is hard to miss.
Both ACR RapidDitch and RapidDitch Express provide storage for your EPIRB, radios, phones, personal documents, food and water. Both ditch bags also feature over 5 pockets including mesh and clear plastic. Both bags have an innovative shoulder strap tethering system that unhooks and easily transforms into two 4-foot safety harnesses. The harnesses are designed to clip to your life jackets and connect everyone while in the water. The tethering system will keep you within arm's length of your ditch bag to ensure all of safety and signaling gear is accessible, even in an unwanted situation. In this scenario the ditch bag is not only storing essential emergency items but it will also become a communal, floating device.
With added buoyancy, the RapidDitch will float up to 25 lbs. and is best used for the boater who knows they could at any point accommodate several crew members. The larger bag measures over 2 feet high and about one foot side, weighing 2.3 lbs. And the RapidDitch Express floats up to 15 lbs., and is a better buy for a slightly smaller crew. The Express bag size measures just under 2 feet high and 6 inches wide, weighing 1.5 lbs.
About ACR Electronics, Inc.
ACR designs and manufactures a complete line of safety and survival products under the ARTEX and ACR brand names including Emergency Locator Transmitters (ELTs), Emergency Position Indicating Radio Beacon (EPIRBs), Personal Locator Beacon (PLBs), Search and Rescue Transponder (SARTs), Strobe Lights, Life Jacket Lights, Search Lights and safety accessories. The quality management systems of this facility have been certified by TUV USA to AS9100C/ISO 9001:2008. Recognized as the world leader in safety and survival technologies, ACR and ARTEX have provided safety equipment to the aviation and marine industries as well as to the military since 1956. The company is headquartered in Fort Lauderdale, Florida and employs over 180 at its manufacturing facility.