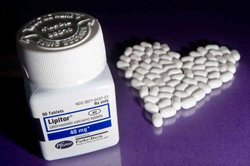 Ironically, the most serious complications of Type 2 diabetes include an increased risk of cardiovascular injuries, which are the very same medical conditions most women were being prescribed a statin to try to prevent
New York, NY (PRWEB) October 31, 2013
Pharmaceutical product liability lawyer Christy Westad of the national personal injury and wrongful death law firm Levy Konigsberg LLP, with offices in New York, New Jersey, and Georgia, publishes an article where she explains legal rights of women who may have developed Types 2 Diabetes as a result of taking Lipitor ®.
Lipitor ® (atorvastatin calcium) is a member of a class of drugs known as "statins" that are prescribed to reduce cholesterol or blood lipid levels with the intention of reducing the risks of heart disease and stroke*. However, recent scientific studies have revealed a possible link between the use of Lipitor ® and an increased risk of Type 2 diabetes in women**.
In February 2012, the FDA required that most statins being sold in the United States, including Lipitor ®, contain language in their packaging indicating that there are reports of increased blood sugar levels in patients taking these drugs***.
Type 2 diabetes is a chronic condition that carries with it the risks of many severe complications, including, but not limited to: vision loss, nerve damage, kidney problems, and even the potential for limb amputation****. "Ironically, the most serious complications of Type 2 diabetes include an increased risk of cardiovascular injuries, which are the very same medical conditions most women were being prescribed a statin to try to prevent," said Ms. Westad.
The pharmaceutical product liability team at the law firm of Levy Konigsberg LLP is currently investigating potential claims on behalf of women who took Lipitor ® and subsequently developed Type 2 diabetes. Consumers who were diagnosed with Type 2 diabetes while they were taking Lipitor ® may call the firm's toll free number at (800) 988-8005 or may visit the website at: http://www.levylaw.com/lipitor-diabetes.php to request a FREE case evaluation.
Note: Lipitor® is a registered trademark of Pfizer, Inc. and/or its affiliates and is used here for identification only. This law firm is not associated with, sponsored by, endorsed by or affiliated with Pfizer, Inc. or the U.S. Food and Drug Administration. Nothing in this press release has been authorized or approved by Pfizer, Inc. or the U.S. Food and Drug Administration.

** The JAMA Network, Jan 23, 2012, http://www.archinte.jamanetwork.com/article.aspx?articleid=1108676
*** US FDA, 07/03/2012, http://www.fda.gov/drugs/drugsafety/ucm293101.htm#pat
**** American Diabetes Association, http://www.diabetes.org/diabetes-basics/type-2/facts-about-type-2.html