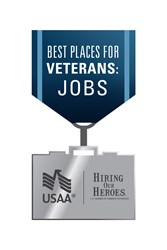 San Antonio, TX (PRWEB) October 30, 2013
Houston is the No. 1 place in the nation for veterans to find civilian employment, according to a new study commissioned by USAA and the U.S. Chamber of Commerce Foundation's Hiring Our Heroes program.
The 2013 "Best Places for Veterans: Jobs" list identifies U.S. metro areas that offer America's new generation of veterans more opportunities to find a military skill-related job. The remainder of the top 10 list includes:
2. Dallas
3. Minneapolis
4. Oklahoma City
5. Austin, Texas
6. Norfolk, Va.
7. Tampa, Fla.
8. Salt Lake City
9. Orlando, Fla.
10. Ft. Lauderdale, Fla.
"Some of the keys to a successful military separation are planning and preparing well in advance, including determining where you want to live and work," said Eric Engquist, executive director of military transitions at USAA. "This study and resources, like USAA's military separation checklist and military separation assessment tool, can help those who have left or are considering leaving the service make their transition as smooth as possible."
"More than one million service members and their families are expected to leave the armed forces over the next five years," said Eric Eversole, executive director of Hiring Our Heroes and Navy Reserve Judge Advocate Commander. "We must remain vigilant to help these men and women find employment, and this list highlights the top places where veterans can put their skills to work."
USAA, a leading financial services provider focused on serving the military community and their families, and Hiring Our Heroes, a program of the U.S. Chamber of Commerce Foundation, commissioned Sperling's BestPlaces to develop the lists. Researchers reviewed variables for 379 major U.S. metropolitan areas, including:
•Employment opportunities in the top industries employing post-9/11 veterans, as reported by the U.S. Department of Labor (March 2013).
•Overall job climate based on unemployment rate and recent job growth.
•Presence of colleges/universities.
•Access to Veterans Affairs hospitals and health resources.
Each variable* was weighted and each metro area was then ranked based on its total points for all variables. To be considered for this year's list, metro areas had to meet the following criteria: an unemployment rate less than 1 percentage point above the national average, a median cost of living less than 10 percentage points above the national average and a violent crime rate below the top 10 percent of all metros.
USAA and Hiring Our Heroes also commissioned lists of the top metro areas for veterans to find employment in medium and small markets. To see the lists and access the Best Places for Veterans tool to create a customized list of best places, visit http://www.usaa.com/bestplaces.
USAA is part of the U.S. Chamber of Commerce Hiring Our Heroes initiative established to help veterans find meaningful employment. Since 2005, USAA has hired more than 7,800 military veterans and spouses. Today, one out of every four new hires at USAA is a veteran or military spouse, and USAA is now working to meet a new internal goal that 30 percent of the organization's new hires be veterans or military spouses.
About USAA
USAA provides insurance, banking, investment and retirement products and services to 9.8 million members of the U.S. military and their families. Known for its legendary commitment to its members, USAA is consistently recognized for outstanding service, employee well-being and financial strength. USAA membership is open to all who are serving or have honorably served our nation in the U.S. military — and their eligible family members. For more information about USAA, or to learn more about membership, visit usaa.com.
About the U.S. Chamber of Commerce Foundation
The U.S. Chamber of Commerce Foundation (USCCF) is a 501 (c)(3) non-profit affiliate of the U.S. Chamber of Commerce dedicated to strengthening America's long-term competitiveness by addressing developments that affect this nation, its economy, and the global business environment.
The trademarks, logos and names of other companies, products and services are the property of their respective owners.
The list does not represent any endorsement, expressed or implied, by the Department of Defense or any other United States government agency.
*Population data as of 2012, U.S. Census Bureau. Median home price data current as of first quarter 2013 from state records of home sales and National Association of Realtors. Unemployment rate as of March 2013, Bureau of Labor Statistics. Job growth rate for last 12 months as of March 2013, Bureau of Labor Statistics. Largest industries as of 2011, Bureau of Labor Statistics, Quarterly Census of Employment and Wages. Nearby colleges as of 2012, National Center for Education Statistics.