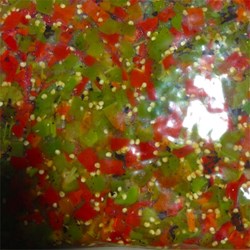 People who love and miss New Mexico cuisine can get their chile-fix no matter where they are!
Hatch, NM (PRWEB) October 30, 2013
Young Guns Produce, Hatch New Mexico's largest green chile producer, has announced the addition of a number of new frozen chile products on its website.
"People already know they can get flame-roasted Hatch Green Chile from our online store, and so it's really taken off this year," says Young Guns Produce President Chris Franzoy, "but we've also added a whole line of frozen, flame-roasted red and mixed chile products as well."
Specifically, Young Guns has added whole, flame-roasted frozen red chile, and flame-roasted diced red chile.
Like the frozen, flame-roasted whole green chiles, the whole red chiles are de-stemmed and de-seeded.
"Fresh red chile is sweeter than the dried red chile," explains Franzoy, "and so making many of the staples of New Mexico cuisine, like red chile sauce for use in everything from red enchiladas to red chile con carne, is not only easier but it also tastes much better."
In addition to selling the frozen red chile online, Young Guns has also introduced their "Autumn Blend," a mix of diced, flame-roasted green and red chile.
Franzoy said that the Autumn Blend creates a beautiful chile con queso because not only does it look beautiful, but the sweetness of the red really comes through.
These products are all currently available from Young Guns Produce's online store at http://www.younggunsproduce.com.
"We're also shipping anywhere in the lower 48 (states) for free," Franzoy added, "so people who love and miss New Mexico cuisine can get their chile-fix no matter where they are!"
About Young Guns Produce, Inc.
Young Guns Produce, Inc. is located in Hatch, New Mexico (also known as, "The Chile Capital of The World"). The corporation was established in February of 1992. The principal owners are Chris and Tammy Franzoy.
Young Guns Produce began its focus on marketing produce grown in Hatch, New Mexico with the idea of supporting the community and delivering great food to the consumer. Chris has always headed up the sales department, and has been at the desk for over 25 years.
The company has evolved into one of the largest suppliers of onions and fresh Hatch Green Chile, pumpkins, and New Mexico Pinto Beans in the Hatch Valley. The newest addition to our Hatch produce is our Frozen Hatch Green Chile.
For more information, go online at http://www.younggunsproduce or call 1-575-267-3001.