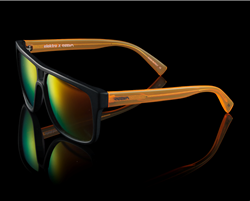 Miami, FL (PRWEB) October 30, 2013
Electronic dance music and DJ culture is the fastest growing and the most influential genre in music today. Elektro is the first magazine and website with a major presence in the United States. They provide millions of EDM fans with a quarterly magazine and a backstage pass to the altar of the DJ Booth serving exclusive content that takes you into the world of producers. With 2 million unique users a month on their site, and 14 million page views a month, it's no wonder a piece of Reeva lives with elektro. Their design tribute is everything that's hot in eyewear right now.
Their design uses Carl Zeiss gold lenses, and neon orange temples, with a matte black front. These shades are out of this world comfortable and nothing says I'm here to party like these limited edition elektro shades.
About Reeva
Miami based eyewear company bred into an underground music phenomenon. Reeva searches for unique artists throughout the world and is the official pioneer of EDM eyewear. Reeva strides firmly to the unconventional, capturing always the essence of genuine, individual expression. Reevas mission is to produce & distribute high quality eyewear and innovative designs at competitive prices. All glasses are entirely handmade in Italy, compose of unique styles, feature tailored looks, transcendent lenses and give off good vibes.