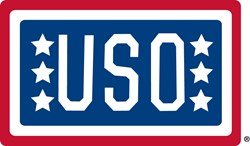 Arlington, VA (PRWEB) October 29, 2013
Today, more than 20 U.S. Senate and military spouses and USO volunteers, joined Dr. Jill Biden at the Vice President's Residence to assemble care packs for wounded, ill and injured troops. The care packs contain items that our troops have told us make a real impact on their recovery process, and allow them to heal with some of the comforts of home. In particular, the packs include essential hygiene items such as shampoo, deodorant, lip balm, and other sought after items. Often, when troops are being transferred from the battlefield to medical facilitates, they arrive with few, if any, personal items. The packs assembled today will be combined with comfortable clothing and a blanket to complete the USO's recently introduced Warrior Care Pack.
"When our warriors are recovering from an illness or injury, they are often far from the home. Those who are injured on the battlefield are sometimes transported in nothing but their uniform," said USO Executive Vice President and Chief of Staff, John I. Pray, Jr. "The USO's Warrior Care Packs are designed to provide our recovering troops with some of the basic supplies that we often take for granted, like a toothbrush, clean socks and a warm blanket. We are honored to partner with Dr. Biden and package 1,500 kits that will reach our troops at a time when they truly need to know that they are not alone."
The first-ever Warrior Care Packs were assembled this past September as part of a USO service project in remembrance of 9/11. The inaugural packaging event was held on Capitol Hill and members of Congress and Hill staffers volunteered their time to support the service project. This will be the second time that Dr. Biden has opened the doors to the Vice President's Residence to host a USO assembly event. Last year, Dr. Biden and the First Lady teamed up with the USO and Full Circle Home to put together hundreds of Mother's Day gift boxes for deployed troops to send home to a special woman in their life. A military mother herself, Dr. Biden actively supports troops and military families through the White House's Joining Forces initiative. Dr. Biden's children's book, "Don't Forget, God Bless Our Troops," was inspired by her granddaughter Natalie's real-life experience during her father Beau's year-long deployment to Iraq. In June 2012, Dr. Biden hosted a reading of her book with the USO, for the military children of the DC National Guard.
"When the First Lady and I started Joining Forces two years ago, it was to ensure that the brave men and women – and their families – serving our country knew that Americans recognized and appreciated the sacrifices they were making for our country and for all of us," Dr. Biden said. "I always enjoy finding ways to support our service men and women, and this warrior kit is just one more way to demonstrate our gratitude."
This year, the USO will host more than 200 events designed to support troops, military families and wounded, ill and injured troops as they transition, reintegrate and heal with honor. For more information about the USO visit http://www.uso.org.
Click here for photos from the event.
About the USO
The USO lifts the spirits of America's troops and their families millions of times each year at hundreds of places worldwide. We provide a touch of home through centers at airports and military bases in the U.S. and abroad, top quality entertainment and innovative programs and services. We also provide critical support to those who need us most, including forward-deployed troops, military families, wounded warriors and families of the fallen. The USO is a private, non-profit organization, not a government agency. Our programs and services are made possible by the American people, support of our corporate partners and the dedication of our volunteers and staff.
In addition to individual donors and corporate sponsors, the USO is supported by President's Circle Partners: American Airlines, AT&T, Clear Channel, The Coca-Cola Company, Grand Canyon University, jcpenney, Jeep, Kangaroo Express, Kroger, Lowe's, Northrop Grumman Corporation, Procter & Gamble and TriWest Healthcare Alliance and Worldwide Strategic Partners: BAE Systems, The Boeing Company, Lockheed Martin, Microsoft Corporation and TKS Telepost Kabel-Service Kaiserslautern GmbH & Co. KG. We are also supported through the United Way and Combined Federal Campaign (CFC-11381). To join us in this patriotic mission, and to learn more about the USO, please visit uso.org.