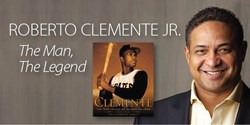 Boca Raton, Fla (PRWEB) October 31, 2013
Roberto Clemente, Jr. and family had a great weekend remembering the father and husband they lost. Roberto, Jr. started the weekend off by holding a meet & greet and book signing with some of the fans that remember his father the most, in South Florida at the Boca Raton Beach Club. While on Saturday, the entire Clemente Family attended Game 3 of the 2013 World Series to hand out the annual Roberto Clemente award to the St. Louis Cardinals outfielder, Carlos Beltran.
Being able to go out and meet with the people that their legendary father inspired is one of the things this family will never get enough of. Clemente, Jr., continues to ensure his father's name lives on through his humanitarian efforts and inspires young people and adults alike with his great stories and motivational speeches he delivers across the country. While Clemente is now awed by how much his father accomplished in 38 years, he didn't understand the impact he'd had on baseball and the world during his career. "For me, he wasn't a superhero, he wasn't a baseball player," Clemente said. "He was just my dad."
The annual award recognizes a Major League player who best represents the game of baseball through positive contributions on and off the field, including sportsmanship and community involvement. The Clemente Award pays tribute to Clemente's achievements and character by recognizing current players who truly understand the value of helping others. While Roberto, Jr. was in South Florida for the weekend promoting the family's new book and other commitments and could not be on hand for the ceremony- Mom, Vera, Brothers- Luis and Ricky, and Roberto Jr. wife, Melissa were all on hand to present the award.
"Every time you have the opportunity to help someone and you don't, you're wasting your time on Earth," Clemente said. This is a philosophy that the family still lives by. As Vera Clemente gave out this year's award, "I must say this year's recipient truly exemplifies Roberto's philosophy," she beamed of the winner. "Carlos Beltran, you are the pride of all Puerto Ricans, and a great representative around the world."