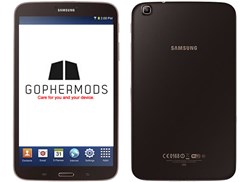 Minneapolis, MN (PRWEB) October 29, 2013
The Galaxy Tab is basically an inexpensive babysitter for your kids or even your significant others. It is time to take off that scotch tape band aid and fix the screen for real now. Cracked screens, charging issues, unresponsive screens are situations most tablet users deal with far too often, and this is why the amazing team at Gophermods is pumped to offer another new tablet repair service to their collection Galaxy Tab repair services.
The latest Samsung tablet out, the Galaxy Tab 3 screen repair will start at $129 for the Galaxy Tab 3 and will consist of a removal and replacement of the Gorilla glass outer layer and digitizer. The service includes all parts, labor and round trip UPS ground shipping, as well as a Gophermods standard one-year warranty.
Previous generations of the Samsung Galaxy Tab, are available starting at $79 for the original Galaxy Tab and only $89 for the second generations of the Galaxy Tab.
The new Galaxy Tab screen repair launches just as Gophermods opens their fourth retail location in Apple Valley, MN. Apple Valley store manager Jason Hall, "We're excited to offer the Galaxy Tab repair in Apple Valley," and goes on to say, "Compared to Samsung's replacement program, the Gophermods Apple Valley team can get you in and out of the door, with no appointments necessary or long lines to wait in."
As of October, Gophermods will be the only company offering the Galaxy Tab repairs in Minneapolis. It will be featured in the Apple Valley, Minneapolis, Plymouth and Cottage Grove store locations and offered through their nationwide mail programs.
Fear your Tab might be too damaged? Drop it off at your nearest Gophermods shop and the Gophermoders can take a look at no charge. In these situations, customers need not worry, diagnostics are free.
Rather buy a new unit? We asked a customer at the Gophermods Plymouth location, Gophermods customer' John Martinez said, "For $150 more I can buy another unit at BestBuy or Amazon, but in this economy every penny matters. Before I would throw the device away, and just buy new, it is more rewarding to support small business and leave a smaller carbon foot print."
Have any questions about Galaxy Tab repair in Minneapolis? Feel free to contact Gophermods customer service at 612-354-2937 with any questions.
About Gophermods
Gophermods is a Minneapolis-based company that specializes in consumer electronics repair. Each year, Gophermods repairs thousands of consumer devices with OEM parts and professional know-how. Gophermods is the one stop shop for full-service game console, iPad, iPhone, iPod and Smartphone repairs.
Gophermods is accredited though the Minneapolis - St. Paul Business Bureau and is a Proud Member of the Minneapolis, MN Chamber of Commerce.
Gophermods
1170 15th Ave SE
Minneapolis, MN 55414
612-354-2937