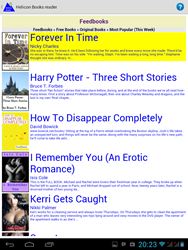 Hertzelia, Israel (PRWEB) October 31, 2013
Helicon Books participated at Frankfurt Book Fair which took place during October 2013 at Frankfurt Messe Germany. The book fair this year included 7,300 exhibitors and 276,000 visitors from more than 100 countries around the world.
High interest has been shown at Helicon Book EPUB3 reading application. The new addition of direct ebook purchase option via OPDS turns the Reader from a reading application into an ebook distribution system for publishers. Ori Idan, Helicon Books CEO says: "When we developed the first EPUB3 reader last year (Helicon Books Gyan Reader) we tried to support as many EPUB3 features as possible. In this version of Helicon Books reader we tried to answer the main need of the publishing industry- distribution. In other words, the technology purpose is not only to enable advanced applications for the reading community, but also to find new ways for publishers to sell their ebooks."
Buying eBooks directly from the reader with OPDS
OPDS – Open Publication Distribution System, is an open standard that enable an online store to connect directly to the reading application. Until now when a customer wanted to read an ebook he had to:
1. Install a reading application.
2. Go to an online store, search for the book and buy it
3. Download the book.
4. Open the book with a reading application.
These steps are somewhat complicated and thus non-technical users sometimes refrain from buying ebooks. With the OPDS method there is no need to go to a store, so acquiring a book is much simpler:
1. Open the reading application.
2. Search for the book and buy it.
3. Read the book.
With OPDS the reading application allows the user to browse through the list of categories and books available in the store. In order for a publisher to sell his ebooks through the reader, not only the reader needs to support OPDS but also the publisher's store should support it. Helicon Books can assist publishers to add OPDS to their store, or to build a new store with OPDS.
As it was seen in Frankfurt Book Fair most publishers have already made the move to digital publishing. This move created a lot of competition in ebook conversion industry. There are many conversion firms and more CMS packages for creating ebooks. There is still a lack of OPDS enabled EPUB3 readers.
Helicon Books combines efforts with publishers to create the best and easy to use distribution channels.
About Helicon Books
Helicon Books is a technology and services company assisting publishers to introduce and adopt advanced technologies for digital Books.
Helicon Books provide conversion services as well as tailor made software for publishers, online readers and a reading application for Android.
Website: http://www.heliconbooks.com/.