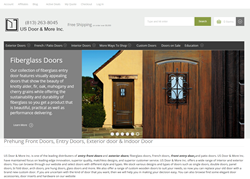 The mobile-friendly version of the website is developed to offer visitors the same experience as the desktop version.
Tampa, FL (PRWEB) November 01, 2013
The company located in Tampa, Florida which specializes in interior and exterior doors of all kinds made available the live version of the mobile friendly website interface on October 17th 2013. The main elements to be noticed by users of the website should be the page layout, which allows content to fit inside the resolution of a smaller screen like one of a smartphone, but still be clear and easy to read.
This version of the website includes code and design optimization in order to lower the size of the served information, from the server to the receiving mobile device, this way lowering the used bandwidth and traffic used when browsing the website.
Another element to be noticed on the mobile version of the website is the fact that the color palette has been preserved from the original website so that you can see beautiful pictures and details of entry doors or front doors properly. The main menu of the website is still black, although it has been rearranged vertically for mobile screens. The menu structure includes multilevel drop-down menus, unlike the desktop version, where there's only one drop-down level.
The mobile-friendly version of the website is developed to offer visitors the same experience as the desktop version, but on a smart compressed scale. In other words, users are able to check Door & More products like entry doors, front doors or french doors, their details, and also to buy the products.
Within the mobile version of Door & More website, users are able to configure the final product that will be delivered to their homes, from any point of view. Users are able to select the size, color, finishing, glass texture and door handing, by taping on the screen of their smartphones or tablets.
When it comes to product listing, Door & More opted for a 3 category list on the main page, one on each row. Each category from the list features two buttons on the right top side, allowing the user to browse through different products available under the category, including an image of the product. The font used is clear, and offers easy reading possibilities for lower resolution mobile devices.
Founded in 1980 by Shayann Behjati, Door and More Inc develops in interior and exterior doors, including award winning designs. The company offers a wide variety of exterior doors, patio doors and also hardware for stylish designs.